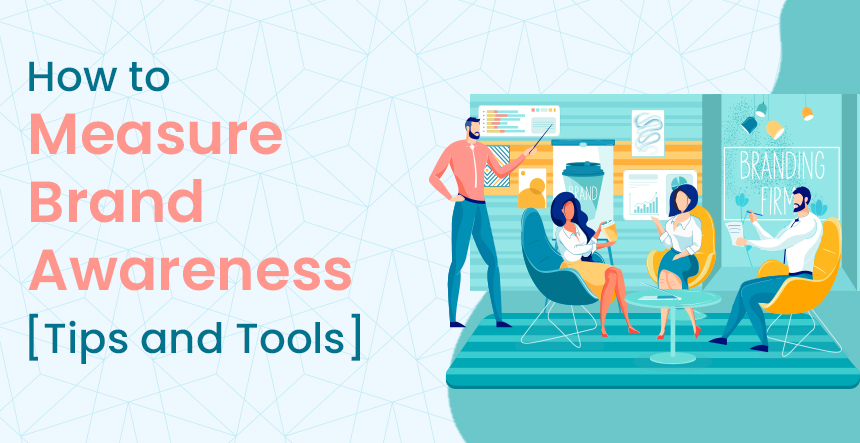 It all starts with Brand Awareness. Yes, if you really want your intended audience to become loyal consumers and brand supporters, you must first make them aware of your presence and purpose.
There are several brand awareness strategies, but none of them will help you succeed until you measure or track your progress.
Experts suggest keenly measuring brand awareness to gauge the performance of any business. In the day and age of smartphones, social media, and high-performing websites, companies are duty-bound to convert themselves into brands. Categorically, a brand is an entity that reflects the ideology of the business and connects with its customers, visitors, and business associates. Raising brand awareness is about building the trust of customers for your products and services. Surveys suggest that 46% of customers are ready to pay more to a trusted brand and 64% connect more with a brand that shares their own values. Even business associates are ready to pay 50% more to partner with a reputed brand. 
So, What are the Best Ways to Measure Brand Awareness?
It doesn't seem to be rocket science if you select the appropriate brand awareness measurement methods for your brand. Here, We discuss the 10 best ways to get ideas that will help you figure out how well your brand is performing.
Importance of Measuring Your Brand Recognition
People's familiarity with your brand, or more particularly, your product or service, is measured by brand awareness.
As a result, we may categorise brand awareness into three levels:
Your brand's recognition
Your product offering's visibility
Understanding of your brand's characteristics
Why should You Pay Attention to Your Brand Awareness Metrics?
Brand awareness provides a measurable return on investment. It turns out that it's a reliable predictor of market share months ahead of time. Knowing this provides every marketer with a solid foundation on which to build new marketing initiatives.
1) Surveys/Questionnaire
Surveying and interviewing individuals is one approach to assess brand awareness. You might include quizzes on your website that ask visitors how they discovered you.
You may also inquire as to when your present clients become aware of your brand. But remember not to irritate your consumers, and make the customer questionnaires short, straightforward, and rewarding.
You may also ask a random group of individuals what pictures your brand brings to their minds. You may achieve this by hiring a PR agency or organising a social media campaign.
Carry out your study on a regular basis, keeping your target audience in mind. This sort of study will take the most time and money, but you will most likely receive excellent results out of it.
2) Check the Brand's Search Volume in Google Analytics
Is your website's traffic increasing? That's fantastic. However, if you dig further into those data, you'll see a crucial brand awareness measurement: Brand Search Volume.
The secret is to look not just at the volume of traffic coming to your site, but also at the keywords that are driving it.
The more people who put in your company's name directly, the better. It suggests they recognize you and think you'd be a good fit for whatever they're searching for.
To investigate this, you don't need any complicated tools; simply go to Google AdWords and Google Analytics and you'll get absolutely what you're seeking.
3) Examine Your Referral Traffic Statistics
When evaluating your brand awareness activities, it's crucial to keep track of not just branded searches, but also recommendation links.
Knowing about other businesses and their willingness to share your brand with their followers and visitors is crucial to increasing your brand recognition.
You should also avoid excessive bounce rates to filter out referral links that cause more problems and you can find these figures easily on google analytics.
Keep track of the real-traffic reference links and combine this technique with another that concentrates on brand recognition in numbers to put the facts in reality.
4) Track the Success of Backlinks
Keep track of the number of backlinks you've earned organically and those you've tried to get as part of your marketing plan.
A growth in organically gained backlinks shows that your material is well-received and useful, and your website appears to be a trustworthy resource.
But how effective are you at obtaining the backlinks you desire? If it appears that few individuals are interested in pursuing a link strategy with you, it's possible that you're providing the wrong sort of material or that your website is untrustworthy.
This might imply issues with your positioning strategy and your inability to clearly express your brand, making brand marketing considerably more challenging.
5) Measure Your Share of Impressions and Share of Voice
It's important to compare your brand awareness to that of your rivals. A 25% increase in brand recognition is fantastic, but if your rivals are increasing it at twice the rate, you really have to ramp it up!
Examining your share of voice and share of impressions over time is a wonderful factor to determine this. Brand mentions, on the other hand, are concerned with how many people have talked about you and what they're talking about.
This is connected to the share of impressions in that it reflects how well you are performing in terms of organic traffic and search engines.
When you combine these two indicators, you'll gain vital insight into how well you're addressing your industry and where your marketing strategy needs to be modified.
6) Keep Track of Your Social Media Activities
One of the most effective ways to raise brand recognition is through social media.
One of the easiest ways to gauge brand awareness is to track the number of social media followers: the more followers you have, the higher your brand recognition is.
Keep track of social media shares, likes, and comments in addition to the number of followers you have. Remember to post frequently and with a variety of content kinds to generate strong interaction and expand your social media reach.
All comments improve your reach, so send out social messages with material that encourages people to take part. Remember to ask questions that are amusing and interactive from the audience.
7) Check Upon the Mentions
Mentions of your company, product, or services in the media, on social media, and in industry magazines are all examples of this. If you want to go any further, you may look at the sentiment of these mentions to see if people are saying something favourable, bad, or neutral about your brand.
Don't worry if this seems daunting; there are tools that can help you gather and track all of this information. To get started, a simple Google Alert would suffice.
This is an important part of monitoring your brand awareness initiatives, and it can provide vital information about future products, assistance, and, of course, marketing strategies for your organization.
8) Use Robust Brand Awareness Tools to Measure it Accurately
Previously, marketers had to rely on large research organizations to track their brands. They were costly, took months to finish, and even after that, you wouldn't have comprehensive access to the information gathered.
Brand awareness is just one of the brand health metrics to monitor, but it's simple to do so and get the entire picture.
Brand monitoring software is the most accurate and dependable tool for marketers and brand managers to monitor brand awareness, as well as a variety of other metrics, such as brand emotion and NPS.
You won't have to rely on guessing for your next marketing effort; you'll know just where to hit.
9) Check How Well Your Content is Performing
Shares and likes, as well as vanity metrics, are no longer relevant. You may detect patterns that provide you with crucial information in your brand awareness initiatives if you look at them the appropriate way.
Analyzing your brand awareness initiatives includes not only measuring the number of individuals who are familiar with your company.
But it also determines which blog articles, videos, and social media material have been successful and how they contributed to the increase in brand awareness.
Simply use the analytics tools that social media or video providers provide. Facebook, Instagram, YouTube, and LinkedIn all provide thorough statistics on how each of your posts is doing in terms of views and interaction.
10) Measure Earned Media Value
It's always a race to boost your brand recognition, but you also want to beat the competitors. Tracking earned media value in relation to rivals helps you to concentrate on a variety of topics.
With no additional digital marketing activities, earned media value offers you an indication of how well your brand is valued, talked about, and known.
When comparing your earned media value to that of your rivals, though, it pays to go a bit more specific. Don't just look at the number of mentions; look at the context and tone of the pieces in which you and your rivals are mentioned.
When it comes to determining the value of earned media for brand recognition, quality and reach are more important than quantity.
11. Evaluate the brand's social media engagement
As per Datareportal, nearly half and precisely 59% of the world is using social media platforms as of July 2022. When measured in number, it totals 4.70 billion. This Godzilla-sized number makes social media platforms a lucrative podium to get your desired target audience and potential customers. When you check your social media mentions for what people talk, share or ask about your brand on popular platforms like Instagram, Facebook, Twitter, and more, you clearly get an idea about the performance of the brand.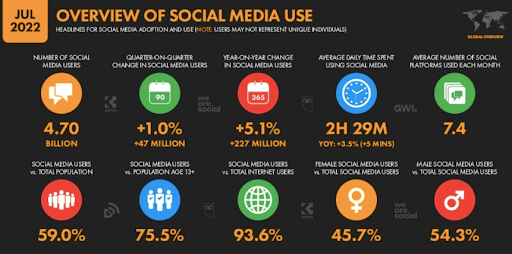 Image source: www.smartinsights.com 
Find out whether the brand is a buzzing thing or not and pick out issues bugging the target audience. Studying organic opinions about the brand is the quickest way to optimize and enhance it through novel marketing strategies. Therefore, improve social media listening, check the loopholes, and fix them up to create an impressive brand.
12. Google trends data to measure brand awareness
Google trends help collect data about the number of mentions of the brand across the Internet. This helps to gauge the performance and popularity of the brand. Check whether these mentions are increasing or decreasing over a pre-defined period of time to know if a certain strategy is working for the brand or not. This helps to optimize marketing campaigns and modify them as per the changing trends and audience requirements. Compare this data against that of your competitors and check how well you fare in the market. 
With the help of this data, companies can analyse the strategies of their competitors and either incorporate similar methods or use an optimized version of them for their own brand. Therefore, Google trends data is a reliable way to measure brand awareness.
13. Check what your employees say about the brand
Your team is the first point connected to the brand. It is that part of the population that is directly associated with the brand, its function, its feel, and its performance. Make sure you listen to them and figure out what they feel about the current situation of the brand and its long-term visibility. Use employee advocacy programs to check what they really think about the business. They will give genuine feedback and even methods to correct the issues. 
Employee advocacy programs should be taken seriously as your team knows more details about the brand than the customer. They know the loopholes and even ways to resolve them. Their suggestions and ideas will help to keep them constructively engaged in the marketing processes and improve the general awareness of the brand as well.
14. Use brand tracking software for realistic metrics
The best way to measure brand awareness is to use a high-performing brand tracking software that scans and collects every touch point to deliver easy-to-understand numbers about the performance and reach of the brand. Such software simplifies the huge task of collecting brand information across various channels and platforms and even suggests optimizing techniques. 
These suites give real-time data so that companies know how the brand is performing, and progressing in current circumstances. They help to alter strategies or come up with fresh, ad hoc ideas that can boost brand awareness. These tools help to achieve both short-term solutions and long-term gains. For that reason, it is advisable to invest in efficient brand-tracking software.
15. Measure the overall revenue or benchmark success
Well, keep an eye on what your company considers success, be it the total revenue earned by the brand in that year or the increase in customers. Every company has a different perspective and definition of success. It also depends on time and situation, for example, a business can focus on customer engagement in the first year of launch and retention in the following year. This changes the benchmark so, metrics should be checked accordingly. 
For most, revenue is the main target, but it requires cohesive effort by production, marketing, finance, operations, and branding teams. So, marketers need to have a fair idea of the higher-level metrics i.e. what the top management is aiming for. This helps to create campaigns that result in achieving those success parameters and to keep every team on the same page to accomplish those metrics. 
When you want to measure brand awareness, examine the success elements defined by the top-level management. It could be the revenue or any yardstick set for a particular period of time. If those values are earned, things are going in the right direction for the brand.
Measure brand awareness by collecting answers to marketing questions
The easiest way to know about the performance of any brand is to collect answers for relevant questions. Some of those questions are: 
Does your customer relate to you? 

Does the customer identify the brand with the service or product? 

Is the customer choosing your brand over competitors? 

What are the bottlenecks to connecting with the audience? 

What hampers customers from choosing you over others? 

Is the customer satisfied with brand quality, service, or product? 
Many more such questions can be designed as per the business, brand, product, services, and vision of the company. Marketing teams should focus on creating specific questionnaires to measure the success of the brand. The answers will eventually help to devise better solutions and improve branding strategies.
Top Helpful Tools to Measure the Brand Awareness
Categorization of Tools for Measuring Brand Awareness
Social Analytics Tools
Social Mention Tools
Social Analytics Tools
The goal of social analytics software is to assist you to figure out when your activities receive the most attention, as well as more comprehensive user demographics and connections with your business.
Brandwatch, which is likely the leader in social intelligence, has aided some of the world's most successful businesses. The sophisticated analytics tools include data from millions of online interactions, as well as tailored target influencers and other paid social initiatives.
It also offers the Vizia platform, which provides information for decision-makers across your business, ensuring that actions are coordinated.
When it comes to evaluating brand awareness, Ahrefs isn't the new platform around. Since its inception in 2011, the company has continued to upgrade and add new functionalities on a regular basis, putting it at the forefront of SEO tools. It's one of the most effective backlinks analyzing tools available.
The tool, which can be used by basically any company, may help you figure out why your competitors are placed in specific categories and what you can do to outperform them.
Qualtrics is software to help transform consumers into enthusiasts, goods become obsessions, staff into ambassadors, and brands into religions.
While such ambitious claims are likely to raise an eyebrow among supply chain organisations, this solution has the ability to deliver B2B customers effectively.
Qualtrics offers a number of methods to assess customer experience, brand experience, product experience, and staff experience, making it ideal for complicated supply chain businesses.
Social Mention Tools
Social mention tools track overall mentions for your brand, letting you see everywhere your brand has been mentioned and helping you determine which platforms are performing best for your content.
Netvibes allows you to effortlessly monitor and personalize all of your digital properties depending on the information it offers. You may use this program to not only monitor your social media accounts for brand referrals but also to set up alerts for trending news or publications on important topics.
You may also get useful information by categorizing your mentions by author, date, region, language, business, and much more
Mention allows you to track your campaigns from anywhere on the internet and "search the internet, social network, and other sources for actionable market resources."
The software allows you to monitor your campaign in real time and receives live updates when you launch it. You can develop bespoke insights using everything from social networks to forums to blogs, and pretty much anything else that's helping you raise brand awareness.
Wrapping up
Brand Awareness may appear to be too broad and difficult to assess and build with care. However, given how important brand recognition is to a company's success, this does not imply you should overlook it. Get out there and spread the word about your company!
So, to assist you, we've created a list of tactics and tools to help measure brand awareness in order to achieve your objectives of measuring brand awareness effectively.
Now that you understand how to measure brand awareness, don't forget to let us know which approach or tool for measuring brand awareness will be most beneficial for you. Also, you can reach our branding specialist, whenever you find yourself getting stuck at any point in your branding or marketing strategies.