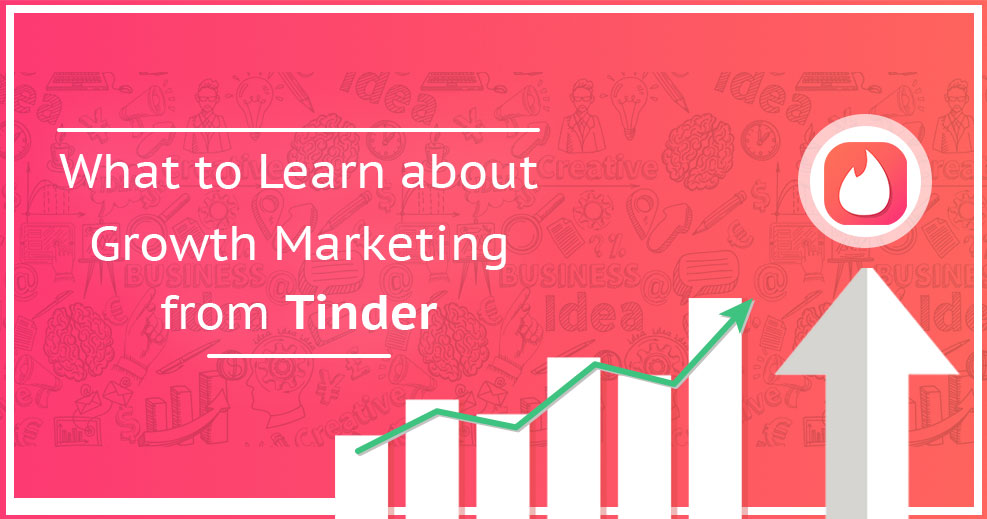 Tinder has been one of the most effective, successful and popular dating mobile applications with great user experience. What makes it so successful and that too in a short time? Let's find out its marketing strategy and other aspects that make this product almost an overnight star in the landscape of the dating ecosystem.
How Tinder Caught Fire and How Your App Can Too: Sean Rad
Exactly how did Tinder end up being a viral sensation without spending a dollar on marketing? Founder & CEO Sean Rad discloses how he distributed the popular social app that has helped with over 1 billion matches between members.
I am sure you must have heard about the Tinder Application which got the immense popularity of late if you are not living under a rock. Tinder is a mobile dating app that connects potential partners as per their data and proximity.
This application was introduced in the year 2012 and has received explosive popularity and fame in just two years by touching 800 million swipes per day. If we talk about the latest graph of Tinder recently in 2017, it has touched 1.6 billion swipes each day.
Isn't it so amazing and incredible? What is so special about this application that made it a huge success? What does this app teach us about business lessons that every enterprise should apply?
Of course, this is about dating that fits well with the adage "sex sells." This is just one facet of the picture, there are several other aspects also that made it a grand success and its growth engine is one such feature.
Conceptual Design
The one thing that brings all major case studies under a single umbrella from Airbnb to PayPal it is their unique product.
Similar is the case with Tinder – its conceptual layout is just exceptional. Nowadays consumer behaviours are driven by emotions rather than logic. All marketing professionals are well aware of this fact that consumer prefers emotional trigger than the logical one. Applying this logic, here are the basic two reasons that encourage people to act:
To acquire pleasure
To move away from pain
What better a pleasure could be than landing with a romantic encounter avoiding pain and rejection. It is not about core materialistic emotions of name, fame, and power but we are talking about the fundamental human desires that have always been there since ages on an evolutionary basis.
It's been proved that humanity has always been fearful of being rejected from the time when they lived in a primitive hunter-gatherer system. At that time, living in a small society where very restricted potential mates were available, the fear of rejection of end of lineage, being outcast and even death has always been a major concern. Nowadays, rejection is a painful emotional trauma people avoid going through.
In Tinder, as both parties have signalled a mutual intention before the match is made, daters no more have to worry about going through the experience of contacting someone they're attracted to and also expecting the same from the other dater. They do not have to worry about being approached by someone they do not like.
Apart from this, Tinder is also featured with the intermittent reward system. It is a reward for you when you swipe right and it becomes a match. You get a notification that you have got a new match in line whenever you access your app. In Tinder, you do not get more than 5 matches in a single day or even no match in a day at all. It works on this rule the scarcer the matches, more valued it becomes which is a huge reward for you when you get any match. You keenly keep visiting the match, swiping for new notification and keep messaging which makes this app a part and parcel of your life.
Rewards become an addition. The user receives multiple matches in the first few days and gets addicted to it. Over time, the number of new matches gets reduced but by then the users are already addicted to the app. In the initial days, users get more matches and new users are displayed to more people thus they get more matches.
It can be easily considered that the emotional aspect and feeling of pleasure and pain are the major drivers of this app making it a huge success.
User Experience
Even with a great conceptual design, Tinder would not have tasted success if the user experience would not have been immense.
The founders of Tinder were wise enough to understand that today everything is getting faster and we are living in a world of immediate gratification. Compared to other conventional dating sites, where it takes some time to read long-trailed profiles for potential dates, Tinder has allowed the users to immediately swipe yes or no the potential partners in just one hand gesture driven by the very first impressions.
In several ways, Tinder takes you to real life. These days, people make impulsive and instant decisions most time. You are not going to like anyone instantly unless you have a first physical attraction.
Tinder is widely based on human behaviour. This is what makes it some popular and effective. It has also used the concept of word of mouth marketing. The on-boarding of the user should be smooth and the user-friendliness is of the essence for a successful word of mouth. If someone recommended you using something with their own experience, but you are facing trouble in using it, there is no use of that thing for you. The point is, the app should be equally simple and easy to use for everyone with clear and simple navigation.
To start using this app, you need to simply connect your Facebook account with Tinder, select your photos, and start swiping. The moment you start swiping you have started dating without even adding your photos.

                                                                                                                                 Image Source: apptimize.com
You do not even need to review the four-step tutorial that this application offers. The application is so easy to understand and use that you can skip the tutorial from logging in using Facebook and start using it. It is an immensely simple application and this has encouraged the word of mouth marketing for this application. They do not have to market it on a wide scale, however, they did.
Although there is a bio section also, you do not have to create a well-defined profile of yours. Tinder takes all the information from your Facebook account – your likes, friends, and develops mutual friends and shared interests and start sending you the potential matches.
Usually, in any other dating site you need to create your bio add interests, food, movies, etc. to start using it. But in Tinder, by this time you start swiping the potential match.
The mobile app is much handier and earlier than the desktop for Tinder's fast-driving dating activities. You simply have to swipe left or right on your smartphone which you will feel natural.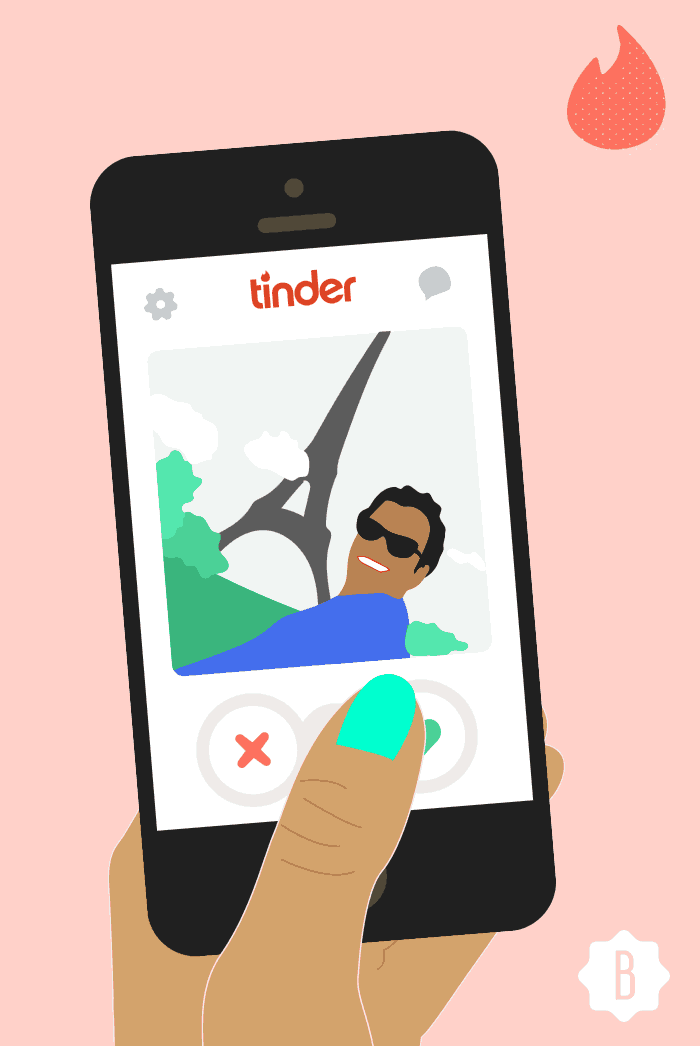 As this app is mostly image-centric, you can make an instant decision based on the looks of your match. Also, the team of Tinder has already implemented some strong growth marketing methods to grab attention.
The Double-Faced Network
The two-sided network is about two different user groups offering each other the networking benefits. If we take the case of Airbnb, here this was successful due to its hosts and guests who complement each other's interests following the supply and demand theory.
In Tinder also, both men and women would make the app work by applying the same rule of law – supply and demand. A great segment of the user base has to be attractive to make it a hit and maintain the right balance of potential matches.
For instance, for a heterosexual man on the platform, a similar match i.e. heterosexual women should be present, and vice versa.
Tinder managed to bring VIPs as early adopters to test the waters. It has already done a good amount of publicity in the 2014 Winter Olympics by making the snowboarder Jamie Anderson and many others to reveal that they're on Tinder. This created a great buzz for Tinder, thus helping its user base grow further.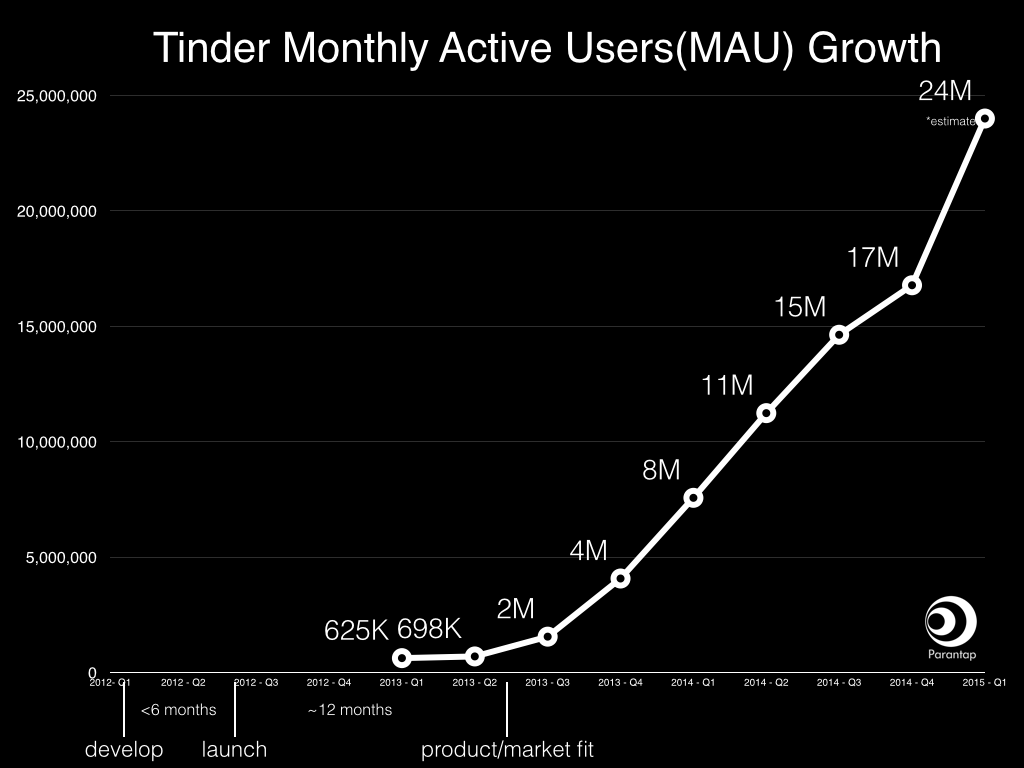 This publicity also dragged all the fan followings of these prominent players and other big celebrities to start following their footsteps and they all started using Tinder too. With high-profile sorority leaders and famous people using the application, this removed the negative social stigma that digital dating is just for the lonely individual. And, Tinder became the platform for attractive and good-looking people who want to improve their dating lives and make it better.
Tryst with Campus Manifestations
The then VP of marketing Witney Wolfe toured numerous campuses in the United States and delivered several group presentations about Tinder to sorority houses.
She encouraged all the girls to sign up for the application and almost immediately she went to the corresponding brother fraternity and helped them sign up the Tinder. This enabled both the parties to see one another's profiles whom that they already knew, but never got an opportunity to communicate in a romantic context.
Outreach through Parties that made a Difference
Hosting parties are yet another way of marketing that Tinder did.  It threw a party for a USC student's birthday and made is awesome by paying the bill for the party in exchange that only those people can let in who would download the application.
All these marketing stunts made Tinder's user base increased from 5,000 to 15,000. This is how word of mouth did its part to promote this unique concept of Tinder and made it a buzzword online.
Parties played a great role in Tinder's marketing plan as this concept went far and wide beyond the American colleges. It was being introduced in Japan, Mexico, and England, with nights of fun and entertainment for singletons all over the world. All these activities worked well and built the brand image of Tinder.
This led to a massive user base for Tinder. In the early days, nearly 85% of Tinder's users were the people falling in the age bracket of 18-23 years, but simultaneously it shrunk to only 57%, encouraging other age users to take over the rest 43% of the user slot.
Conclusion
Concluding, it can be easily said that the widespread growth of Tinder is the result of a quick onboarding process, an addicting product with great rewards (matches), and a crazy but effective instant dating product that was altogether offbeat and of course the right launch parties that did well.
Have you used Tinder? If so, what about the application encourages you to keep coming back?
Please let me know in the comments below.