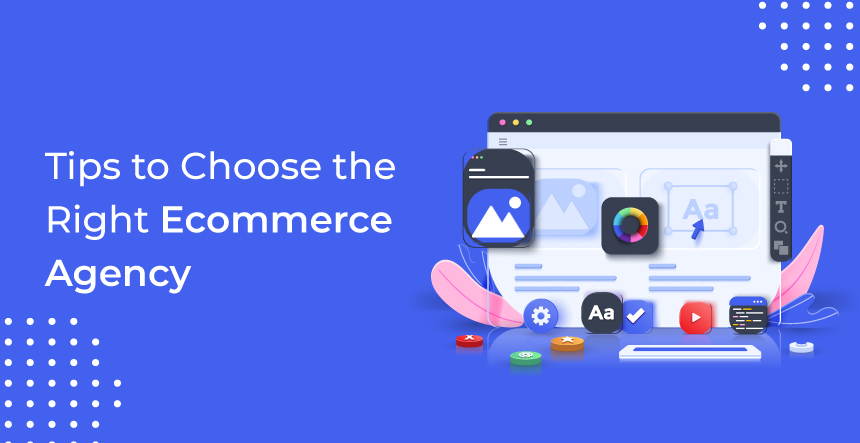 "If you sell it, they will buy it."  That's not exactly true when it comes to eCommerce, is it?
I know some of you might not like this answer but it all depends on a few things. If your store's load time is slow, not easy to navigate, or it confuses you while taking the next step then I have bad news for you.
But, if your site has a good user experience(UX) and user interface(UI) and follows best development practices then I have good news for you.
Now, the question is which eCommerce development agency will help you get the good news? 
To assist you with the answer to these questions, we have gathered some of the most crucial points to discuss and check with the future agency for your eCommerce business.
Useful Tips to Choose the Right Ecommerce Development Agency
Is the Ecommerce Development Company Well-minded to Understand Your Business Goals?
Is the eCommerce development company trying to get a better feel for your products? Are they trying to get a better feel of your business? 
The first step that any eCommerce development agency should take is getting to know the client's store products and business goals. AT first, it can be very hard to understand every little specific detail of online store products/pricing/delivery/etc. And because of that might raise some questions from the eCommerce development agency's end which must be conveyed to the online store owner. 
A good eCommerce development agency should be always aware of its business goals. The agency will come up with more questions once the agency learns more and more about business goals and needs from their eCommerce project.
Don't be baffled if they start to give you additional information which they consider you must know.
Let us be aware of the fact that some clients have unrealistic goals But the agency will try to tackle this difficult situation in two ways.
The agency will try to get your attention on impossible things such as budget, deadlines, etc.

They will inform you of possible alternative solutions and help you set realistic goals.
A good eCommerce development company does that in order to build a good relationship and set a solid foundation on transparency and sincerity.
Contact Them for Portfolio
To make it easy for you, you can simply approach a company and ask for any relevant portfolio examples, use cases, and success stories that are related to the project that you are looking to build. 
Let them brief you up. They might not be worth your time in the first place if they don't get back to you with additional information
Contacting the company is a good idea because some of the portfolios might not be listed on their site due to NDA or simply because the company forgot to list them on site. The company may offer you more data about the project they've done in a more specific scope. The portfolio needs to be most detailed and should explain it all. Check out the most relevant examples that are more similar to your project.
Ideally, you're reassuring yourself that the company got successful projects under its belt. A strong project is a testament to a great eCommerce website development company. To make the right decision you need to evaluate the portfolio before making a decision. 
The skills they proffer such as functionality usability and designs will be evaluated once you look at a detailed portfolio.
Before even checking the portfolio, look at the company's website to get a general idea of responsibility and competence. If they're sporting good design and high-end talent, you would be expecting it to be portrayed on their own website.
Does the Ecommerce Development Agency Agree with You on Every Aspect?
Many of the companies will be contacted by you while looking for the right eCommerce development agency. While looking, you'll find some of the companies promising to deliver anything you ask them. No matter how impossible your request is, they will say yes to it all. A smart eCommerce web development agency will listen thoroughly to your requests and website needs, and then they will say what is possible and what is not. 
Let us face it, everything is possible with time and money. But, some agencies accept everything you ask and say yes to all later to disappoint you by accepting that they can't deliver what was promised.
Share Your Budget with Them Well in Advance
Sometimes it's best to set a budget in advance. Having a set budget can mean beginning with the point of negotiation with the agency from a point of simplicity and it might as well save time. 
Taking into the account Total Cost of Ownership (TOC) can be a great aid in the beginning. All the costs that arise from the project are called the total cost of ownership. The post-production cost of upgrades and maintenance comes under TOC. Be sure to clear these points with the eCommerce web development agency.
Check Whether They are Proactive or Reactive
The number one important driver of client satisfaction is proactivity as stated by numerous sources. In other words, if you're happy with your agency then you have to pay attention to your agency's proactivity.
Various agency initiatives can be ranged by that.  It can be to initiate an analysis of your "status" in the eCommerce market, on how to face various kinds of challenges. 
If an eCommerce agency is giving you a solution even before it becomes an issue then that agency is a proactive one. The reactive agencies are the ones that present you with a solution after something has become a serious issue.
Check Their Reviews from Different Sources
There are plenty of review websites that are dedicated to displaying reviews of development services. Clutch is one of the most well-renowned ones. Clutch proffers detailed client reviews, assisting companies to find the best providers for their projects. These kinds of websites help people to check the reputation of the companies and let them see if there is an ongoing issue with the company, websites like clutch are indeed a trove of information treasure.
Websites like Clutch are a rich trove of information, allowing you to verify the reputation of the company and check if there are any recurrent issues in the way the projects are handled. The undeniable advantage of Clutch is that their reviews are (typically) unbiased, as the interviews are conducted by their analysts. Clutch conducts client reviews and builds verified company profiles, making it easier to connect service providers and clients.
Visit Their Knowledge Center
An agency blog section can prove multiple things. First, it proves that they're following the latest trends in their niche.  But, not just that. It also proves that they are testing all the new technologies to keep up with the trends.
This shows that the agency is not blindly following what others are doing but giving a thought before implementing with a sound mind. In that way, the agency is displaying that they want to be better and want to improve the tools and platforms they are working on.
Be Familiar with Their Development Process
If you're curious about how things will go, you can always ask the eCommerce development agency to describe how the process will go. Yes, even if they have to draw a roadmap, you can always ask if you don't get a single step. This way you can compare which process is better with two or more agencies.
To find out if the agency is professional or amateur you can always opt-in one area where you can find out right away. How they go about testing features they have developed and how they ensure the quality is how it can be done.
Consider Nearshoring or Offshoring
Your decision regarding nearshoring or offshoring should be well put to rest by now. With Corona disease in full swing, collaboration tools, and remote work has been put to test well by serving many businesses. Instead of being clustered in a confined area of physical offices, modern organizations are still able to continue and do work. 
The pandemic has aided to reinvent work culture in general and prove that every company can be a remote company and every worker can be, in fact, a remote worker.
If you're looking for talent qualified in specific technology then outsourcing the development to an offshore team based in Europe is not only cheaper but also more effective. 
Is the Ecommerce Development Agency Familiar with the Current Trends and Technology?
Along with modern trends and practices, the user experience (UX) and design of your eCommerce website have to be up to the mark. Along with the sites, web designers need to up their game and be in tune with the latest technologies and trends.
To judge the capabilities of a company, swipe through its portfolio and check what kind of eCommerce platforms they build upon, for example, Shopify, WordPress, Magento, etc. It will leave a huge impact on the performance of your website depending on their knowledge of the leading eCommerce platforms.
Are They Large Enough in Numbers?
One of the biggest brownie points of hiring an eCommerce Magento development agency is that you are, effectively, hiring all of its professionals. 
And this is a good thing because you are actually hiring "knowledge" from the entire agency team. If in the future, there's any issue or error arising while working on the eCommerce project then you'll have the entire team at your back to solve it.
But, there is also one issue if any agency has a large number of its team members assigned to other projects other than yours. Therefore, you should ask before picking an agency how many members will be working on your project? And follow up with- how many of them are working on other projects?
In the end, assurance of a smooth development process is what matters in order to trust the agency's ability to properly implement all best practices.
Is the Ecommerce Development Agency Behaving Like a Partner?
If you want to reap the benefits of any eCommerce agency you must have a strong intuition that they will do everything in their power to achieve your goals. Because your goals should be their priority.
One of the reasons is to properly keep the client updated regarding possible errors in the platform so that agency can fix them at any later stage. An agency that wants to build a partnership will always train and teach their client about using eCommerce solutions which is a good sign of a professional agency.
Do They Have Core Values?
Core values are reputation setters of a company. Sometimes, it can be just a motto. It's smart to follow core values. Why? Because an agency can be described by the message behind the motto. 
For example, Krisha Web strives to achieve a higher level of relationship with our clients. We do not want our clients to feel that they're just one of our clients. Every client and every business goal is unique to us and that's why every project is specific to us. 
Time-Frame Matters with Budget
This is the century's most asked question. Can something be done quickly and well,  but also cheap?  Well, here's the thing. Any agency can do work quickly but there's goes a lot of outstanding cost behind that.
There is a charge of paying overtime work for the team i.e. developers, designers, project manager, and everyone involved in the project. Why overtime though? As efficiently as possible, the agency has every process in development organized. There is a good reason for the agency if they ever give you an estimated time frame.
In the end, it's always an equation of balance between cost, time, and quality.
Wrapping Up!
Every eCommerce site has specific requirements. From projected estimation time to cost and customization requirements. Every eCommerce project must have a roadmap for its success.
While choosing an eCommerce development agency is not an easy task, we hope that we helped you a little with this blog. Be sure to check the post about the exact questions to ask an agency.