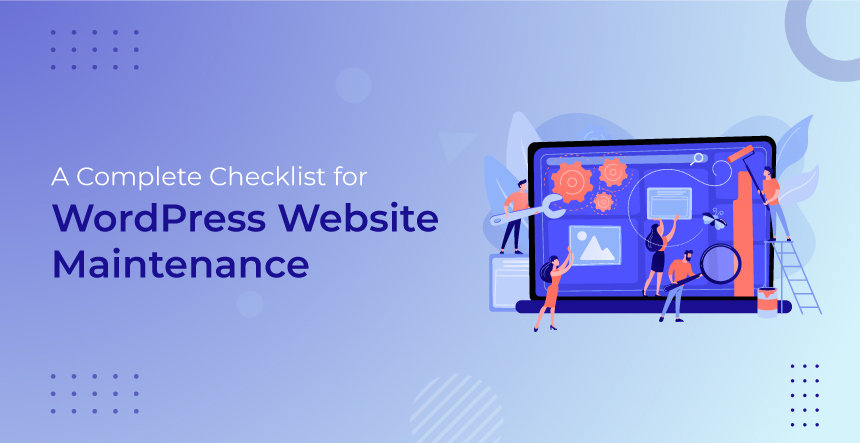 Do You Know? Aside from developing your business website, what other areas should be a priority for you as a business owner?
No? Okay, Let us explain…
It is common knowledge that any physical or virtual entity requires regular maintenance to ensure its proper functioning. The same applies to the website, it needs to be maintained with certain checkpoints. Maintaining a website with certain checkpoints depends solely on the technology on which it is built.
This article will outline the most essential tasks for maintaining a WordPress website that should be performed regularly, and provide instructions on how to complete each one of them.
Before we start with WordPress Website Maintenance, it should be noted when and how often we should perform the maintenance task of the WordPress website.
Why and How Often Should You Perform the WordPress Website Maintenance Tasks?
Your WordPress website is composed of several components, including your WordPress hosting, the WordPress software itself, and your plugins and themes. Additionally, you add your content with text and images, resulting in a website that is valued by your visitors and customers.
Many website owners only check for maintenance issues after something breaks, following the creation of a blog or website. However, to ensure optimal performance, it is necessary to perform routine maintenance tasks regularly. These tasks ensure that your website is always functioning at its best.
The frequency of your WordPress website's maintenance depends on the traffic volume your website faces daily. If your website goes through a heavy volume of traffic, you should execute this maintenance checklist every three months. On the other hand, for small website owners with low traffic and content, maintenance tasks should be performed every six months.
Below are the fundamental WordPress maintenance tasks that you must perform, along with instructions on how to complete them.
WordPress Website Maintenance Checklist
17 Important WordPress Maintenance Tasks
Update all WordPress Passwords
Review and Update all WordPress Files
Review and Remove Spam Comments
Run Performance Testing
Optimize the WordPress Database
Test Your WordPress Forms Regularly
Backup Your WordPress Website
Identify and Resolve Errors for 404 Pages
Identify and Resolve Dead Links
Conduct a Comprehensive Content and SEO Audit
Optimize Images on the WordPress Site
Review WordPress Security Logs
Troubleshoot Maintenance Tasks
Assess the Linkability of Your Website
Check your Website's Backlinks
Check with the Advertisers on Your Website
Evaluate if you require new hosting services
1. Update all WordPress Passwords Regularly
The initial line of defence against unauthorized access to your website is passwords. It is essential to use robust, unique passwords for all online accounts.
Nonetheless, even if you employ strong passwords, they may still be compromised without your knowledge. Therefore, WordPress security professionals recommend changing your WordPress passwords regularly. This includes passwords for your WordPress admin area, FTP or SSH accounts, and your WordPress database password.
The challenge with robust passwords is that they are more difficult to remember. As a result, we suggest using password manager applications like LastPass to securely store and automatically fill passwords without the need to type them.
2. Review and Update All WordPress Files
The WordPress platform has an inbuilt system to handle updates for WordPress core, themes, and plugins. It is essential to keep your website updated with the latest versions of WordPress and plugins.
However, there may be instances when you miss an update. For instance, a premium theme or plugin may fail to check for an update when its licence expires.
To avoid missing updates, navigate to the WordPress Updates page to manually check for available updates. It is crucial to review all installed plugins and themes to ensure they are running on the latest version. In case you choose not to update any plugin or theme, make sure to document the reason for your decision.
3. Review and Remove Spam Comments
The Akismet plugin is a popular tool used by website owners to prevent comment spam on WordPress. It works automatically to filter out spam from your comment moderation queue.
However, sometimes legitimate comments can be falsely marked as spam. It's important to periodically review your spam comments to make sure that no real comments have been mistakenly filtered out.
Once you have reviewed your spam comments, you can delete them from your website. If you have numerous spam comments, it's best to batch-delete them on WordPress. This won't necessarily improve performance, but it will ensure that you don't accidentally overlook genuine comments.
4. Run Performance Testing
The speed at which your website loads is crucial for enhancing user experience, boosting conversion rates, and even positively impacting SEO. Although you may have optimized your site for performance when you first created it, this does not guarantee that it will remain optimized over time. Therefore, it's crucial to periodically evaluate your site's performance to identify any potential problems. Most websites would benefit from monthly assessments, but mission-critical sites may require weekly evaluations.
5. Optimize the WordPress Database
The database of your website serves as a repository for your content, theme configurations, plugin settings, and more. However, it can accumulate a significant amount of unnecessary data over time, such as post revisions, transients, and spam comments, which can create clutter. To combat this issue, it's advisable to regularly optimize your website's database by removing these extraneous elements.
6. Test Your WordPress Forms Regularly
Regularly testing important forms or features, such as a checkout process, is crucial to avoid potential loss of leads or sales. It can be frustrating to discover that a form has stopped functioning and has been affecting your business for the past 10 days. The frequency of testing depends on how crucial the forms or features are to your business. Monthly testing might suffice for some websites, while mission-critical forms and features that can result in lost revenue or clients require weekly testing. For highly critical features, consider setting up an automated monitoring system like Pingdom's transaction monitoring, which tests key features on an hourly or daily basis.
7. Backup Your WordPress Website
The backups of your WordPress site are critical and must be included in your essential maintenance tasks.
There are several WordPress backup plugins available, such as UpdraftPlus and BackupBuddy, which can automate the backup process. However, even with a backup plugin, there is a chance it may stop working without your knowledge.
Therefore, it is recommended to manually run your backup plugin periodically to ensure a complete backup of your website. Once the backup is complete, verify that your backup files are securely stored in a remote location of your preference, such as Google Drive or Dropbox.
8. Identify and Resolve Errors for 404 Pages
If a user attempts to access a non-existent page on your website, WordPress will display a 404 error page. While 404 errors resulting from user input errors are common and typically harmless, those resulting from a page's unavailability can be aggravating for users and negatively impact their experience.
9. Identify and Resolve Dead Links
As your website expands, you may discover that certain external websites you linked to in your previous posts are no longer accessible. While some may have relocated, others may have vanished altogether.
The problem of broken links extends beyond external links. You may inadvertently include broken images, poorly formatted links, or misspell your links. This not only frustrates your visitors but also undermines the user engagement of your site.
Therefore, as part of your WordPress maintenance routine, it is necessary to examine your website for broken links.
10. Conduct a Comprehensive Content and SEO Audit
It is essential to conduct a comprehensive review of your website's content as part of your regular maintenance tasks. Google Search Console and Google Analytics data are critical to this process.
Google Analytics can provide insight into your website visitors' behaviours and their origins. This information can help you identify areas on your website that generate a lot of traffic but have a low conversion rate.
Google Search Console's Search Performance page can help you identify the keywords that your website appears for in search results. You can sort these keywords to determine which articles can be updated to improve your website's ranking.
If you are using All in One SEO, you can select a focus keyword to optimize your content. All-in-One SEO provides you with a True SEO Score and optimization suggestions.
Even if your content has a high SEO score, you can still improve it by adding new information, images, and links to other pages on your website.
11. Optimize Images on the WordPress Site
Text typically loads faster than images, which can slow down the loading time of your webpage. During a performance check of your website, you may uncover some excessively large images that contribute to this problem. These images may go unnoticed in less popular articles. In the case of a multi-author WordPress site, some authors may not prioritize optimizing image sizes as you do.
To address this issue, it's important to regularly review your images and media library. This process can help you identify any images that are too large and take steps to reduce their size.
12. Review WordPress Security Logs
It's not uncommon for WordPress users to be unaware of an ongoing attack on their website until they notice a decrease in search rankings or slower site performance. To prevent such incidents, we suggest taking proactive measures like changing passwords and creating manual backups. Additionally, reviewing your site's access and error logs can help identify any unusual activity.
Another effective solution is to install a security audit plugin on your site. Furthermore, we highly recommend using Sucuri, a website security company that provides a website firewall to safeguard your website against common threats.
13. Troubleshoot Maintenance Tasks
Many of the maintenance tasks for a WordPress website are harmless and won't cause any issues with the site's functionality. However, some actions like checking for broken links or using an image optimizer plugin can slow down the site.
If you have a staging site, it's best to perform maintenance tasks there first before going live. However, not all WordPress users have a staging site, which means that performing maintenance on the live site could result in temporary slowdowns and unexpected errors.
To mitigate these issues, you can put your WordPress site into maintenance mode or schedule maintenance tasks during periods of low traffic.
14. Assess the Linkability of Your Website
Numerous link popularity tools are available on the internet, which can check the websites that are linking to your site. Search engines use this information to evaluate your site's ranking. Depending on the level of activity and the requirement for improving search engine rankings, it is recommended to perform this check every month or at least three times a year.
15. Check your Website's Backlinks
To enhance your website's visibility in search engine results, it's important to consistently engage in activities aimed at submitting your site to search engines and attracting new users. However, it's crucial to avoid submitting your site to the same search engine too frequently, as this could result in penalties. Instead, aim to check in with your site submissions at least once or twice a year.
16. Check the Advertisements on Your Website
To ensure that your website's advertising remains up-to-date, it's important to regularly touch base with your advertisers and verify that they haven't made any changes to their techniques, pricing, or processes. The frequency of these check-ins will depend on the level of activity on your site and may range from monthly to several times a year.
17. Evaluate If You Require New Hosting Services
As your website expands, it is possible to exceed the capacity of your current hosting. Although it is a desirable problem, you may need to upgrade to a higher-tier plan with your existing host or even move to a superior one. If you have already surpassed your host's limits, they will likely reach out to you proactively. However, it is advisable to check in with your host every year or so to evaluate if they are still providing sufficient performance, reliability, and features to meet your needs.
It's time to Refine Your Website's Performance…
Note that it is not a must to follow this checklist rigidly, and you may want to adjust the frequency of these tasks to suit your website's needs. For instance, if your website's forms are not critical to your business operations, you may not need to check them frequently. Still, It Depends!!!
Nevertheless, we have endeavoured to establish an optimal frequency that would benefit most websites, making this checklist an excellent starting point for creating your WordPress website maintenance plan.
If you find website maintenance to be overwhelming, consider using a managed WordPress host, which can handle tasks such as backups, security scans, and updates, freeing up your time. Alternatively, you may choose to hire a WordPress Tech Expert for a WordPress maintenance service to maintain your site for you.
Overall, once you establish a routine, your maintenance tasks should only require a few minutes per week, with additional time set aside monthly or yearly for other tasks.