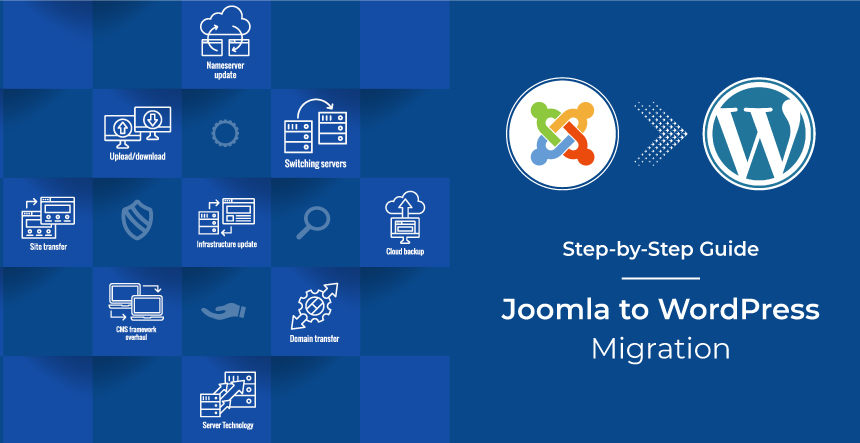 Joomla to WordPress migration is a frequent occurrence these days. Companies are switching their Joomla websites to WordPress for the CMS comfort and tech convenience of the latter. Joomla is a free, open-source CMS popular for building websites, portals, eCommerce applications, user communities, and more. Written in PHP and following MVC architecture, Joomla offers around 6000 extensions to add more features to websites. Currently, it is considered the fifth most popular CMS after WordPress, Shopify, Wix, and Squarespace.
Statistics suggest that as of February 2023, there are 1.8% of websites made in Joomla. It also occupies a 2.8% market share of sites based on CMS. Around 80% of websites use version 3 of Joomla. The United States has the most active Joomla websites and the number sums up to 364,000 as per the data of April 2022. Germany comes second close with 204,000 websites made in Joomla. However, the popularity of Joomla has seen a downward curve, with its market share dropping from 7.2% in 2017 to 2.7% in 2023.
There are plenty of reasons for this shift. We will cover them in the article and give steps for Joomla to WordPress migration. Read on for more details.
Top Reasons for Joomla to WordPress Migration
WordPress is undoubtedly the most wanted and used CMS of all available in the tech world. There are concrete reasons for the ever-growing popularity of WordPress. It is an open-source CMS with an active community that keeps coming up with new modifications and updates for fine-tuning the software. With thousands of themes and plugins, WordPress offers flexibility, and functionality and covers everything required for creating outstanding websites.
Some of the Major Benefits of WordPress…
User Friendliness
WordPress is a beginner-friendly CMS with easy to navigate admin dashboard that allows the quick building of webpages. It does not require any coding skills so, small businesses, Startups, and individuals can easily create sites without any coding background. Joomla dashboard is not as user-friendly as that of WP.
Advance Customization
WordPress has a catalogue of thousands of themes and around 58,800+ extensions. These can be customized to create better features for the websites. Easy to download from the official library of WordPress, the add-ons are very useful in creating high-tech websites, blogs, eCommerce sites, and more.
Best for Blogging & Content Marketing
Originally designed as a blogging platform, WordPress offers everything required for content publishing, manipulating, and optimizing. It offers discrete categories, tagging features, a taxonomy system, and more. It has in-built SEO that achieves high-ranking websites and blogs. This indirectly boosts sales and RoI.
Vast Community
Being an open-source software, WordPress enjoys a massive developer community that keeps amending bugs, themes, plugins, etc. This makes it a very powerful CMS with regular updates and quality checks. Thousands of WordPress developers and experts are there to resolve any and every WordPress-related issue.
Cost-effective
The cost of development is high in Joomla when compared to WordPress. As WordPress has thousands of themes and plugins, integrating them into the site, reduces site development costs to a bare minimum.
More Features and Functions
Joomla extension directory is quite lean when compared to that of WordPress. You may need to code for custom components, which demands the efforts of Joomla developers. On the contrary, WordPress offers reliable plugins, themes, and components that easily add more features to the sites.
Ease of Development
Joomla is far more time-consuming than WordPress, which has numerous readily available components and customization options. Therefore, a WordPress site is very easy to develop compared to other CMSs. With readymade themes and plugins, WordPress development is relatively uncomplicated, systematic, and time-saving.
Security
Joomla comes up with few updates and delayed support, which increases the chances of risk for the websites. WordPress takes care of these sides and drops regular updates for bugs. A regularly backed-up WP site is far more secure than any Joomla site.
Better Marketing, Analytics, and Audit
With WordPress, you can automate the marketing aspect as well as important operations. In addition, you can use analytics for checking the site's performance on the ranking part.
Pre-Requisites Joomla to WordPress Migration
Web hosting
There are many reliable web hosting service providers for WordPress-specific websites. Choose the one that satisfies your business requirements. The general standards for small to medium-scale websites are good uptime, high performance, value for money, and an easy-to-use control panel.
WordPress Environment Setup
Most WordPress-specific hosting providers offer automatic installation of the CMS. You don't have to do any extra effort. Just a one-click button for the installation and you are done.
Access to the Domain
Next, log in to the domain registrar account and find out the page that offers management of the domain settings. These can be configured at a later stage to make it a domain for a WordPress site.
An introduction to FG Joomla to WordPress
Let us help you migrate from Joomla to WordPress in five quick-to-follow steps. For this, we will use a plugin for it. WordPress does not allow native migration, a plugin comes in handy. The plugin called FG Joomla to WordPress is a freemium plugin that supports all versions from Joomla 1.5 to 3.9. If your site is based on any of these Joomla versions, you can use this plugin.
FG Joomla to WordPress plugin manages the migration of articles, images, sections, categories, subcategories, external media, menus, web links, meta keywords (in the form of tags), etc. from Joomla to WordPress. It is suitable for WordPress 6.1 and even multisite installations.
5 Easy Steps for Joomla to WordPress Migration
Step 1: FG Joomla to WordPress Installation and Configuration
For this, go to the WordPress dashboard and click Plugins -> Add New. Then, search for the plugin named "FG Joomla to WordPress" in the search bar on the top right. It will display the plugin. Click "Install Now" and Activate. 
Step 2: Joomla Database Configuration
Next, we need to focus on the Joomla database considerations. This is important as only with these parameters, the CMS will allow the plugin to start the process of import.
Go to the Joomla dashboard, and click the System tab from the top menu. It will roll down the menu, and select "Global Configuration" from it. Go to the Server tab, under which you will find two parameters – "Server Settings" and "Database Settings". Copy the details of all the fields. Save them in a convenient place like Notepad.
Step 3: Actual migration from Joomla to WordPress
Now, go to WordPress dashboard -> Tools -> Import.
As you have activated the plugin in the first step, it would be available here. Next, click on "Run Importer" under it. This will take you to the migration section.
In this section, under the "Migration" tab, you will find two options in the form of bullet points. Choose "Remove all WordPress Content" to remove any sample pages create as part of the installation. Press the "Empty WordPress Content" button to execute the action.
Next, go to the Joomla website parameters section. In the textbox, enter the URL of the Joomla site that's getting migrated. Then choose "HTTP" from the options available for 'Download the media by'. Click on "Test the media connection". This is done to check if the connection is fine or not, to avoid any issues in the HTTP connection. If everything is fine, you will receive a message "HTTP connection successful".
Now, scroll down to the Joomla database parameters section. Here, you need to enter the values of all the parameters copied during the earlier steps. Just keep the port value as it is.
Click on "Test the database connection". If things went well, you will get a message stating "Connection Successful".
An error message will be displayed if there is any error during the process. You need to check the parameters for any spelling errors and correct them.
Now, you will go to the next section called "Behaviour". You will find a few options which are explained below:
The migration process may take time depending on the size of the Joomla website. You will get the message Import completed along with 100% completion of the progress bar.
Now, check all the files to ensure that all pages, posts, and media are transferred successfully to the WordPress site.
Step 4: Setting Up Internal Links
The internal links within pages would be ineffective. To solve this, go to Tools -> Import. Click on "Run Importer" under Joomla (FG).
Followed by this, scroll down to the "After the migration" section -> "Modify internal links". Once this is done, check the WordPress pages or posts to verify if the internal links are reaching the correct URLs or not.
This completes the migration process so, you can deactivate the FG Joomla to WordPress plugin.
Step 5: Domain Setup & Instantiation
The next step is to set up the domain name of the old Joomla site to point it to the WordPress site. It can be done either by changing the domain's nameservers or altering its A records. This may take around 24 hours. You might have to change the domain name in the 'General Settings' as well.
To avoid any mistakes, it is advisable to hire expert developers for Joomla to WordPress migration.
Post Migration Optimization After Moving from Joomla to WordPress
Now that we are successful with Joomla to WordPress migration, we need to set up and alter the WordPress site to add customization, if any. The following steps will be helpful.
Managing Your Permanent Link Structure
Permalinks are the URLs that bring users and search engines to the correct web pages and posts on the site. They need to remain unchanged for ease of reaching out to them. Therefore, it is important to set up the Permalink structure.
Go to WordPress dashboard -> Settings ->Permalinks.
This will give six options, out of which "Plain" is the default. It contains an ID-based slug. It helps to differentiate pages but does not uncover information about the page or post. So, it is advisable to choose the "Post name" option. By choosing this, WordPress will create a URL slug based on the title of every new post or page. It helps in pushing SEO forward.
For news or date-driven websites, choose date-based permalinks that display the publication date.
Once you set up the permalinks structure, click on "Save Changes".
Checking for Broken Links
Some of the links might get broken during the migration process. So, use a plugin like "Broken Link Checker" and fix them. This will help visitors to reach the correct pages.
You can also SEO tool called "Google Search Console" which shows pages that face 404, and page not found errors. 
You can fix all of these pages so that the new WordPress site is up-to-date and flawless.
Going for Necessary Redirections
Next thing is to arrange redirects to the right URLs. You can use a WordPress plugin named "Redirection" to fix 301 redirects and supervise 404 errors.
Theme Setup
To add a new look to the site, choose a new theme from thousands of WordPress themes (free themes). You can also choose from paid, premium themes for designing the site. Theme Forest and Template Monster are the official marketplaces for themes. They may prove pricey, but they also offer customer support services like live chat, email, etc.
Or, you can hire a team of WordPress developers to create webpage designs from scratch.
WordPress Plugins for Necessary Features
Now, it's time to add unique yet essential features to the WordPress site. You can do that with popular WP plugins like Yoast SEO, Visual Composer, WooCommerce, MonsterInsights, etc. 
Final testing for design and functionality
The last step is to test and check the web design. Make sure that it is user-friendly, easy to navigate, attractive, brand-specific, and traffic-pulling.
You must have a mobile-friendly website so, assure everything that needs to be done for that.
Create a clutter-free, catchy layout that represents the business or brand in its true sense.
A bit of knowledge of HTML and CSS will be of great help. Also, the best alternative is to hire WordPress developers who can manage the migration and post-migration process like a pro.
Conclusion
Joomla to WordPress migration is a technical task that should be justified with relevant effort. You cannot miss a single thing. Make sure that you take professional help at the right time to initiate and experience a hassle-free migration process.
If you are a Startup, SME, or Enterprise in search of a tech partner to execute Joomla to WordPress migration for your website, KrishaWeb can be your one-stop solution. We are a WordPress VIP Silver Agency Partner that offers all kinds of WordPress solutions to clients across the globe. We will help you figure out affordable solutions with matchless technical acumen.
Feel free to connect with us for more details!