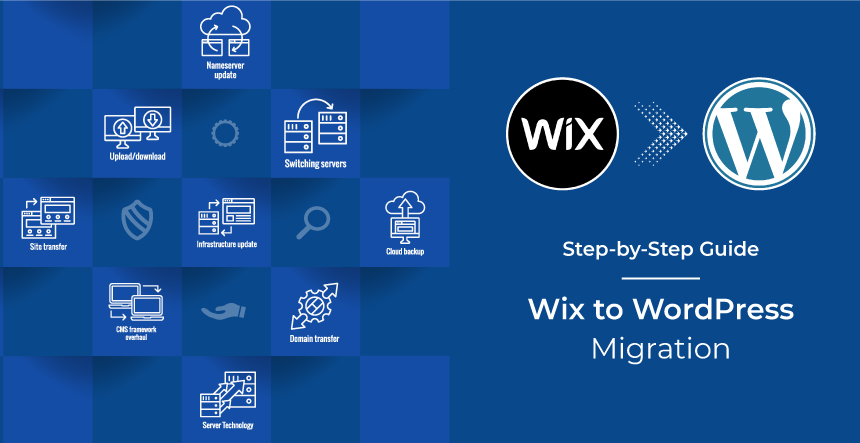 Wix to WordPress migration is preferred by many small businesses. This is done to leverage the merits of the most popular CMS and to add more features and functionality. Most importantly, WordPress offers flexibility that no other CMS does. Let us dive deeper into the process along with gaining insight into the website builder, the benefits of shifting to WordPress, and the migration process.
What is Wix (wix.com)?
Wix is a powerful website builder that offers cloud-based web development. It facilitates novice users and first-time businesses to create websites and mobile sites through easy-to-use drag-and-drop tools. All you have to do is purchase a custom domain and create a site by modifying from 800 templates. Customize the site by adding videos, scroll effects, animation, etc. to create a personalized business or individual website.
Some of its other uses include social media, eCommerce sites, email marketing campaigns, and more. Currently, it is the most popular website builder with a massive 43% market share. Squarespace, Weebly, and GoDaddy are the next in line, in terms of popularity.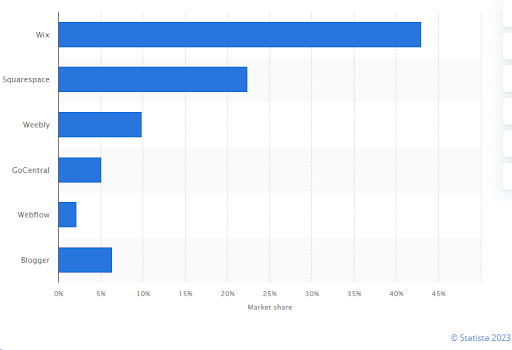 Source: Statista (Wix Market share)
Talking about Statistics, Wix enjoys a massive fan following with 238 million users, which includes 6 million premium subscribers. It is most famous in North America, which accounts for 59% of its total revenue. Next in line is Europe which contributes to 26% of Wix's revenue and then Asia which offers 11% of the income. Latin America follows them with 4% of the Wix revenue.
Although it is considered a simple website builder, it has a high reputation for creating instant websites for small businesses and Startups. As per the data of Q3, 2022, the income generated by Wix business solutions was $261 million while that of creative websites summed up to $840 million. Such impressive figures suggest a clear domination of the Wix website builder. However, there is an increasing graph of Wix to WordPress migration. Let us check out the major reasons for doing so.
Top Reasons for Wix to WordPress Migration
As of now, it is well known that Wix is for quick building websites especially non-intricate, simple ones. Any small business unit can easily create a website using Wix without knowing how to code. Over time, the basic site needs modifications or add-ons to meet the changing requirements of the business. Basic features may need fine-tuning or replacement with better functionality. At this time, you need a fully-fledged CMS like WordPress that offers you everything, without any additional effort.
WordPress proves to be the finest solution to any business's ever-increasing demands. It also provides website creation without any technical knowledge. At the same time, it helps to create a dynamic, feature-rich site through plugins and templates. So, if your business thrives on huge traffic, then WordPress is the way to go. WordPress will get you more traffic, sales, and revenue with advanced CMS functions, personalization options, and in-built SEO functionalities.
WordPress has proven its calibre as the best existing CMS. From a blogging platform to a multisite, you can create all options for authentic, user-centric websites with WordPress. It is a self-hosting platform, so, you need to choose a hosting service suitable for your business, install the software and build your site. Being open source, it is free, without any licensing fee. Owing to its massive fan following, most hosting providers offer a single-step installation. Therefore, Wix to WordPress migration is easy and preferred these days.
Limitations of Using Wix
Below is the list of limitations of Wix that prompts websites to migrate from Wix to WordPress. Check them out now!
We can't Add Forms in Blogposts
Most sites get instant signups and visitor data through forms on blog posts. A reader can simply fill up relevant information and connect with the business. Instead, it offers a link to another page that has a form on it. This switching between pages may result in losing the visitor from filling in the basic information.
Not Possible to Switch Live Site Templates
Wix gives you the opportunity to choose any templates out of the hundreds that it has; but once the site is live, you cannot switch to another template.
No Third-party Tools
Wix is a closed platform so, you cannot use any third-party tools to add custom features to the site. You can only use Wix proprietary tools.
We can't Modify HTML
Wix does not allow you to modify your HTML code. There are workarounds for this, but you need some technical knowledge for it.
To sum up, the drawbacks of Wix are that you cannot create anything more than a basic site. So, for an intricate and layered site, you have to opt for Wix to WordPress migration.
6 Steps of Wix to WordPress Migration
Now, that you know that WordPress offers much more than Wix, you need detailed steps of the migration process.
Step 1. Getting a Web Hosting Service
You need to choose a relevant hosting service provider for a WordPress site. Managed hosting service will deliver the same experience as the Wix site. In this case, the hosting company will install and run your site on WordPress.org. Also, it will manage regular caching, malware scans, backups, and updates of all site components. With the freedom from such technical tasks, you can focus on creating custom content and design.
Apart from this, there are other types of hosting providers like shared hosting. You can check all of them and choose as per your business requirements. SiteGround, WP Engine, and WPMU Dev are some of the most trusted managed hosting services. They offer diverse monthly and annual plans, which can be chosen as per the requirement and parameters like storage, security, etc. Let us assume you have chosen SiteGround for hosting. Select a relevant plan from the options that it offers and get ready for the next step.
Step 2. Setting up a Temporary Domain
Once you are done with selecting the hosting plan, you need to either purchase a domain name or rely on a temporary domain for your new site. As your Wix site would be active at this point, it is advisable to purchase a temporary domain for the WordPress site.
Step 3. Installing WordPress on the New Domain
The next logical step is to install WordPress software. If you have selected a WordPress-specific provider then most of the time, they install it automatically for you. Otherwise, you need to do it. For this, you need to log in to your new web hosting account. In SiteGround, a pop-up window will ask if you want to set up your website. Select WordPress as an application and click "Continue". Upon the successful completion of the installation, you will be notified with a message stating your WordPress account is ready to use.
Step 4. Permalink Configuration
The next step is to change the permalink structure of the WordPress site. This is required to keep retaining the SEO efforts you have put in so far. Login to your hosting provider's account and go to the "admin control panel". This will take you to the WordPress dashboard, go to "Settings" → Permalinks → Post name.
Step 5. Theme Installation
After all these efforts, you will be able to import posts, pages, and content, into your WordPress site. The glitch is that you cannot do so with your template. For this, you need to choose a new WordPress theme and install it.
For this, go to WordPress dashboard → Appearance → Themes → Add New.
Now, select the theme that suits your business and install it. This is the standard process for free WordPress themes.
In case, you want a premium theme, you need to search third-party marketplaces like Themify. Select the best one from here, download it, and come back to the WP dashboard.
The next steps are the same, just a little change. From Add New → Upload Theme. Your downloaded theme is available in a zip file on your PC. Click the "Activate" button to use this theme.
Next, the process for bringing in content from your Wix site.
Step 6. Migrating from Wix to WordPress
There are two methods – one using RSS feed and another using migration plugin. Here, we will focus on exporting using the RSS feed.
Exporting from Wix using RSS feed
This is a semi-automated process, which will automatically import your Wix posts, but leaves the import of pages and images for the manual effort.

Importing Posts & Pages to WordPress
Locate your RSS feed by adding /feed.xml at the end of the site URL. This will open your RSS feed. Click on the page and use the "Save as" option. While saving, change the file extension to .xml and save it to the desktop.

Go to the WordPress dashboard and find "Tools" on the left side of the screen.
Here, Tools → Import. Find "RSS" on the page.
Under it, you will find "Run Importer", click it.
Now, click "Choose File" → "Upload file and import" and get the .xml file from the desktop.
This will import all the posts.
Cross-check by going to "Posts" → "All Posts". This will display the list of all posts. Check if all are imported.
Now, all your posts are on the WordPress site. The point is that the RSS feed method imports all posts and not pages and media. They need to be imported manually by the following process.
Import Wix pages using the RSS feed method
For this, go to the Wix dashboard, and copy the content of pages, one by one. Next, go to WordPress dashboard → Pages → Add New. Start pasting the content here. Repeat for all pages.
Import Wix images using the RSS feed method
It can be done in two ways but, first, download all the images from the Wix site to your PC and save them. Upload them manually. For this, WordPress dashboard → Media → Add New. Upload one by one manually.
The other way is to upload them in bulk through FTP.

Testing WordPress Website
Check if there are any assets left to be imported. If you are satisfied with the inclusion of all the posts, pages, and media files, then you are done. Check if the themes, posts, and pages are in synergy or not.

Installing required plugins and integrations
Now, if you want to add new plugins and features, you can do that at this stage. Any third-party integrations are also possible at this stage.
Post Migration Checklist
Now, those with free Wix websites need to purchase a custom domain from a WordPress hosting provider. If yours was a paid domain name from Wix, you can easily transfer and register on your new hosting account. This will switch the temporary domain to your own custom domain.
For this, go to your Wix account → Domains page → Show more → Transfer Away from Wix.
Next click Transfer Domain → I Still Want to Transfer. At this point, Wix will send a code to your email. This code is set up to authorize domain transfer to the new registrar. Do not delete this email.
Start the transfer process on the new web hosting account. Assuming that you have chosen SiteGround, let's move forward.
Login to your SiteGround account. Next, "Add Services" → "Domain Transfer" → "Get".
It will open a pop-up window. Enter the domain name in the text field and hit the "Check Status" button. Next, it will ask you to enter the code sent in your email. Enter the code, and update domain owner information, if required. After completing this, it will transfer the domain automatically. You will receive a welcome email from the hosting provider (SiteGround in this case), on the completion of the transfer.
5 Pro Tips Post Migration (Wix to WordPress)
Fasten security with strong passwords or through Sucuri. Change the login URL to hide your WordPress admin account.
Handle website speed by choosing a fast-loading theme. For eCommerce sites, choose the best WooCommerce themes and improve the performance of the site.
Add SEO plugins to earn higher rankings on search engines. Choose a plugin that has proved successful.
Add analytics tools and plugins to monitor the performance of your site.
Add social media plugins and other relevant extensions for custom features.
Final Words
Wix to WordPress migration is a complicated process. Hope this guide helps to simplify it. The best way is to find experienced WordPress migration experts. They will perform the migration with complete finesse, leaving no loopholes.
If you want to go for Wix to WordPress migration, KrishaWeb is the best tech partner for you. We have a team of industry experts that perform the migration without an iota of mistake. We offer Enterprise WordPress Development services and everything under the domain of WordPress services.
For more details, connect and partner with us!