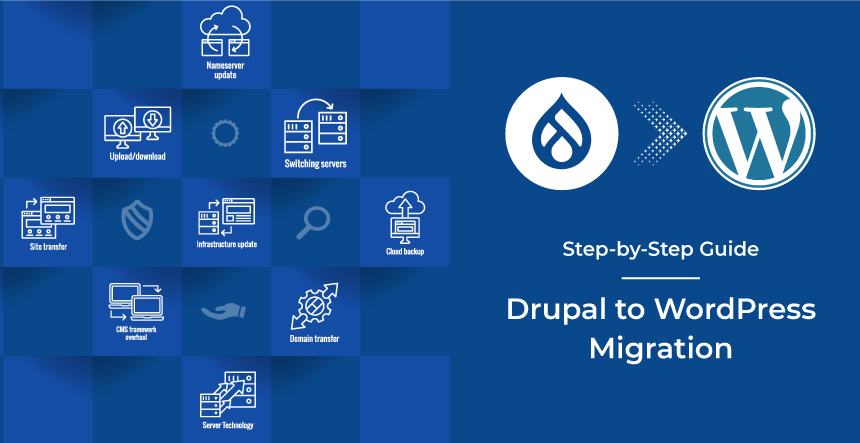 The Drupal to WordPress migration process could be challenging, but definitely satisfying in the end. While WordPress is preferred by the masses, Drupal has its own tech-drooling fan following. Both CMSs have their merits that can be leveraged depending on the requirements of the company. The complexities of Drupal are ruled out in WordPress and so, many companies like to migrate from Drupal to WordPress websites. The article focuses more on migration and how it can benefit a business. Before that, let us have an insight into both of these acclaimed CMSs.
A Brief About Drupal CMS
Written in PHP, Drupal is an open-source CMS that came into existence in 2001. It has evolved over the last 22 years, with new versions and features being added by the Drupal developer community. The current version is Drupal 10 and is highly used for custom web development. Apt for companies that face large amounts of traffic, Drupal is for every kind of business, from Startups to enterprises.
Security is the USP of Drupal CMS, so, enterprises and multisite setups rely on this powerful CMS. Talking to the merits of Drupal CMS, it provides hundreds of themes for ease of design. It supports multilingual web development, flexible content types, a tax system, built-in access to control types, etc. Tesla Motors, Nokia, Nasdaq, GE, etc. are some of the top businesses with Drupal-based websites.
Easy to install, it receives adequate support from the open-source community. However, it is still not a beginner-friendly platform. It requires a certain level of technical acumen and coding knowledge to create websites in Drupal. It is slow with updates. Indeed, an apt CMS for complex sites, Drupal has its own advantages.
A Brief About WordPress CMS
Released in 2003 as a blogging platform, WordPress is now the leading CMS with 43% of global websites to its credit. It offers the development of all kinds of websites including eCommerce sites, enterprises, publication businesses, international multisites and more. Easy to install and develop, WordPress offers hundreds of free and paid themes and plugins to create stunning and functionally rich websites.
It is a beginner-friendly CMS and supports quick web application development. You don't require coding knowledge to create sites on WordPress. It is a free, open-source CMS with a massive community of WordPress developers to support bug fixing and innovation.
Categorically speaking, there are two of them – WordPress.com and WordPress.org. To be specific, WordPress.com offers self-hosted site development wherein you create an account, choose a theme, and start publishing content. The hosting service is taken care of by WordPress.com. The domain name will have a wordpress.com extension so, it does not give a professional, individual company feel.
WordPress.org allows the download of the site development package, but you need to choose your own hosting provider. This is better as there are no ads on the site and the owner has complete control over it. You can install relevant plugins for adding features as required. Customizing the site, and adding individual components and business logic, becomes easy with WordPress.org. Ideal for heavy traffic standing, cost-effective website development.
7 Reasons Why You Should Go for Drupal to WordPress Migration
First and foremost, Drupal is not for beginners or laymen with little or no knowledge of coding. This could be a big bottleneck for non-tech Startups and businesses that want to build their websites.
Customization is possible in Drupal, but with a lot of coding effort. For a non-tech crowd, this is a very demanding and confusing CMS to deal with.
It is high on maintenance so, if you are ready to spend a good deal of money then choose Drupal development otherwise, WordPress is quite an affordable solution.
WordPress offers a huge number of free and paid themes to create custom website designs. In contrast, Drupal is limited to thematic customization.
WordPress offers built-in SEO features to get higher ranks on search engines. Higher ranks are proportional to more business. Contrary to that, you need to hire an SEO agency for optimizing Drupal sites.
WordPress offers numerous plugins with specific functionality. You can incorporate relevant ones to create a feature-rich website. Drupal offers limited modules, and custom modules require additional coding effort. So, WordPress is easy for adding features to your website.
WordPress is affordable compared to Drupal, which may require a few thousand for web application development. As Drupal develops features from scratch, the cost and time get stretched.
For all these reasons and more, Drupal to WordPress migration is beneficial for most businesses. Simply speaking, WordPress adds convenience without compromising on competence.
Pre-requisites for Drupal to WordPress Migration
It is important that any company is mentally and technically prepared to migrate its site from one CMS to another. This is to ensure that current data is not lost during the process. The following are the two important steps.
Step1: Set up a New Website or Choose a New Web Hosting Service
If you have a good hosting service provider with plans that offer multisite options, then you can set up a new site for WordPress. This is convenient as you don't need to search for a new hosting provider or go through various plans and choose the best one. If you are not happy with your hosting provider, then it's better to choose the one which is best for your business and website.
Small and medium businesses can rely on shared hosting services. However, large enterprises with a global domain may need a managed hosting service that supports the maintenance of the website. The following things are provided in managed hosting:
Absolute backup of the website
SSL certificate installation
Integration with CDN
Website scan for any malicious elements
Suppose, your hosting plan facilitates a single concurrent website, then switching to WordPress will result in the loss of existing data on the Drupal site. To avoid this, you should upgrade the hosting plan or choose a new hosting service. For this, research before switching the host and select the one that suits your requirements and budget.
Step2: Backup of Drupal Data
Another significant process in Drupal to WordPress migration is backing up the entire website, including themes, modules, and everything. Even though no files get deleted during migration, it is always recommended to take a complete backup before starting the process.
Take a backup of the following:
Existing website database
Drupal root directory
Save them in one folder for convenient restoration. Once that is done, you are ready for the actual Drupal to WordPress migration.
5 Simple Steps to Migrate from Drupal to WordPress
1. Mapping Your Drupal Data
Drupal to WordPress migration is definitely not a simple process. You need to consider many things, including the safe transition of your website data. As Drupal is complex, there are many fields and components that need to be converted to WordPress. For this, it is important to map all of that Drupal data before migration.
Primarily it includes
Authoring information
Publishing dates
Images
Attachments
SEO data and elements
The mapped data is exported on a content type or user type. This helps in quick import to the WordPress site. Take technical help for this process, as every content and user type will have diverse field types as well. This data will be converted to XML, JSON, or CSV files, through the Views Data Export module. You cannot afford any mistakes here, so, hire WordPress developers with expertise in migration from Drupal to WordPress.
2. Installing the Plugins for Drupal to WordPress Migration
For better migration, you need to fine tune WordPress side as well. To begin with, download the WP all Import Pro plugin with the Advanced Custom Field (ACF). This is done to facilitate the mapping of fields from Drupal to custom ACFs within WordPress.
The next step after downloading the plugin is to upload the already created XML, JSON, or CSV files. Post this, and decide the data that needs to be imported. It could be posts, pages, users, and every existing element on the Drupal site including themes.
3. Data Clean-up and Media Synchronization
WP All Import Pro will process the above-mentioned files with the data chosen for import. Here, you can configure the data or write custom fields required to map specific data.
You need to be careful here as certain images; attachments or PDFs may not get processed during migration. This results in broken links and media that do not load on the new WordPress website. Transfer them using SFTP and sync them with the help of the MediaSync plugin.
4. Accomplishing All the Drupal Features on WordPress with Plugins
Substitute every feature and module with related WordPress plugin. There are plenty of plugins so, check their market reviews before installing them. Scan the plugins to rule out any malware. The plugins will kickstart the website with all the required functionality.
5. Testing the Website
The most important step is to do a quality check of the newly formed WordPress website. Every element, theme, plugin, page, post, etc. should be checked. Cross-checking helps to figure out anything missing or broken during Drupal to WordPress migration. The testing process helps to fix any bugs or mistakes. You need an efficient QA team to carry out a variety of tests and create a foolproof website. It is advisable to rely on expert agencies like KrishaWeb to conduct Drupal to WordPress migration.
[Alternate Method] Steps to Migrate from Drupal to WordPress Using FG Drupal
Another way of Drupal to WordPress migration is through plugins. When you have a WordPress instance installed on the web server, you can proceed further.
FG Drupal to WordPress Plugin
Next, you need the free FC Drupal to WordPress plugin to carry out the migration process. Install the plugin from the dashboard, and activate it.
Initiating Database Parameters
Find out important database parameters like Drupal username, password, hostname, DB name, and prefix. You can find all of them and more in the core file of the Drupal installation. It can be checked using FileZilla, the FTP client.
Access the file and search the "access/default" directory. Here, you will find the settings.php file. Open it in a text editor and find all the above-mentioned parameters.
Import Your Drupal Content into WordPress
Find the "Tools" tab in the WordPress dashboard. Select the "import" option. If the plugin is installed properly, you will find the Drupal option in the import menu. Click "Run Importer" to get a page for configuring the parameters. Add relevant data in all these fields.
The next step is to import media files and metadata. For this, select Import summary → click on the "to the content" button to import them through the Read More link. Choose the option as per your site requirements.
If you don't want to import any media files, then select the "Skip Media" checkbox. There are other media options like "Import external media" and others. Select as per the migration plan. Media import may hamper if you have a low download speed. To avoid this, enter a time limit in the "Timeout for each media" checkbox.
Once you have set all these parameters, hit on the "Start/Resume the import" button and let the plugin do its job. Once you get the Success message, click on the "Modify internal links" button. This will amend internal links as per the new site structure.
That's it! You have successfully completed the Drupal to WordPress migration.
What to Do After You Migrate from Drupal to WordPress
Now that you have successfully migrated to the WordPress site, you have more liberty and features at hand to create a stunning site. You can choose a theme that matches your brand and customize it with the help of WordPress developers.
Install additional plugins for specific features. Make sure that you research well about the themes and plugins as they are areas of invasion. Keep site security in mind. Configure security plugins. Use SEO plugins for site optimization. Hire WordPress developers who can do all of this with absolute finesse.
Final Thoughts on Drupal to WordPress Migration
Drupal to WordPress migration is a huge task, but can be best accomplished with the right resources. Plan things in advance for better execution. Use this migration guide as a help, but dig deeper into your site requirements. Make sure that the new site adds value to the business.
If you want expert guidance and technical assistance for Drupal to WordPress Migration, KrishaWeb is a one stop solution. We have an experienced team that specializes in tech migrations.
Just give us a shoutout and we are ready to discuss your next WordPress Migration!