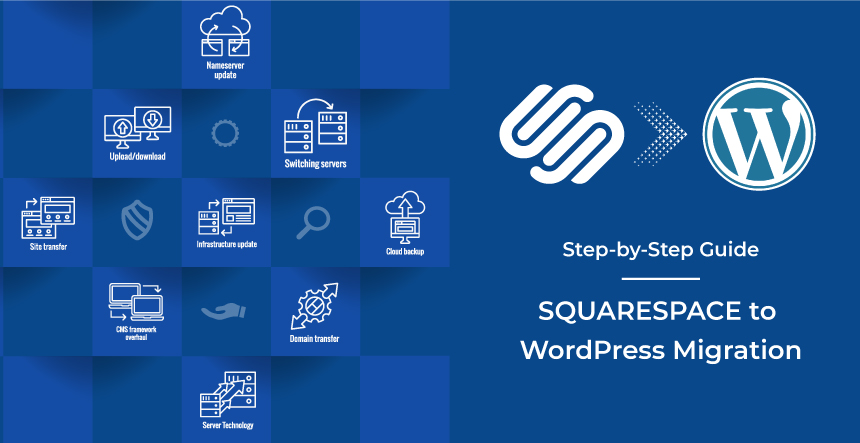 In this article, we discuss SQUARESPACE to WordPress migration. SQUARESPACE is an intuitive, beginner-friendly website builder platform that requires zero coding knowledge. As a site builder, it occupies 30% of the market and is fast gaining popularity. The crowd that chooses it consists of people with the least knowledge about the process of website development. They rely on SQUARESPACE to create a quick, easy-to-make website that represents their small business or online store. Most of the time, it's used to create the first, primary, entry-level website. However, as the business evolves, site owners need to add more features to the website. This is the breaking point as the platform has its limitations and so, people opt for WordPress development.
Top 5 Reasons Why Site Owners Opt for SQUARESPACE to WordPress Migration
1. The Need for Customization!
First and foremost, WordPress is highly customizable. You can add new features through relevant plugins and create an extendable website. It is a very flexible CMS that allows you to create feature-rich websites without any technical knowledge. In addition, it is beginner-friendly and offers numerous customization options.
2. WordPress Offers SEO-friendly Website Development!
Another major reason for switching from SQUARESPACE to WordPress is that WordPress offers extensive support for SEO. Tech experts claim that WordPress CMS solves 80-90% of Google's crawling issues and, therefore, is suitable for building high-ranking websites. Now, higher search engine rankings are directly proportional to more business, sales, and revenue. This is a clear-cut reason to make a switch to WordPress.
3. WordPress is Better for Ecommerce Solutions!
WordPress is equipped with plugins and tools to handle the demands of enthralling eCommerce websites. While SQUARESPACE facilitates built-in eCommerce functions, it does not have the multi-currency option and has limited multilingual support. Those who want to create a long-lasting, eCommerce website should rely on WordPress over other platforms.
4. Faster Loading Websites with WordPress!
You can choose a hosting provider that offers fast-loading WordPress sites. This is missing in SQUARESPACE, as you cannot choose the host. It is a self-hosted platform with only on-site optimization. Therefore, WordPress offers fast-loading websites that do not face the risk of abandonment.
5. WordPress proves cheaper than SQUARESPACE!
Even though WordPress is considered a seasoned CMS, it is actually quite pocket-friendly. While SQUARESPACE offers different kinds of monthly plans, WordPress requires you to pay only for the hosting service. This makes the overall budget lesser than that of SQUARESPACE.
With all the above and more benefits, it is clear why people migrate from SQUARESPACE to WordPress. Let us check out the actual process and how to handle it with finesse.
SQUARESPACE to WordPress Migration: 6 Easy Steps
Let us help you understand the migration process without making a fuss about it. Firstly, migration from SQUARESPACE to WordPress is quite easy compared to the same for other technologies. So, let's begin!
Choosing Hosting Options
It is a well-known fact that WordPress is an open-source CMS available for free. However, you need to pay for the hosting service. Choose a WordPress-specific hosting provider that offers a service and plan that suits your site requirements and budget. You can choose between shared hosting and managed-to-host services as per the demand of your business.
WordPress Installation
WordPress installation is the next step. Most hosting services automatically install it for your site. If not, you can choose a single-click installation from the hosting dashboard. Otherwise, leverage the 5-minute installation process. For this, you need to download the latest version of the CMS from WordPress.org. Followed by this, run the "five-minute WordPress installer" and follow the instructions till the end. That's it!
Exporting SQUARESPACE Content
The next step in line is to transfer the content from the SQUARESPACE site to the WordPress site. However, its export function has limitations and allows only blog posts, pages, image blocks, galleries, text, etc. It does not export product pages, audio files, folders, index pages, secondary blogs, CSS, event pages, etc.
A simplified way to achieve maximum benefit is to go to "Settings" → "Advanced" → "Import/Export". Then click Export. A pop-up will open with two options:
Export pages to WordPress
Download CSV file
Choose the export pages' option. On finishing the export, click Download. You will end up having the export file on your PC.
Importing to WordPress
For this, log in as WordPress admin. Go to Tools → Import. Click the "Install Now" button under the WordPress option.
Next, "Run Importer" → "Upload file and import".
Now, you will see the import settings page. Click on "Submit".
After this, your SQUARESPACE content will be available on the WordPress site.
Importing Media to WordPress
As mentioned earlier, SQUARESPACE does not allow the import of all images so, it needs to be done manually. You can do it with the help of the Auto Upload Images Plugin.
To kickstart the image import process, you need first to edit the content that has images in it. With WordPress, you can manage bulk editing in the least time. For this, go to "Posts" → "Screen Options".
Next, ensure the items are made to "999 Numbers of items per page". Bulk selects the posts, first click "Edit" and then hit on the "Apply" button. Next, hit the "Update" button. This will update all posts as WordPress posts and import images as well.
Fixing the Permalinks
You need to fix the internal links to avoid any error pages. For this, go to "Settings" → "Permalinks". Choose the link structure that resembles that in SQUARESPACE. Usually, this is the day and name.
Edit each and every link by adding /blog-1/ as a prefix. This will rule out 404 errors.
There are chances that a few 404 errors may remain, so, install a plugin that specializes in fixing them.
SQUARESPACE Ecommerce the WordPress.com E-commerce (i.e. WooCommerce)
You can also move an eCommerce site from SQUARESPACE to WordPress. For this, download an online store plugin like WooCommerce.
As products won't get imported during the bulk export process, export them in a CSV file first. Followed by this, import them into WooCommerce.
The steps to follow are:
Go to SQUARESPACE Home menu, hit the "Commerce" button → "Inventory".
Next, click on "Export all".
Go to the WordPress dashboard, then "WooCommerce" → "Products".
Now, click on "Import" at the top to go to the "Upload CSV file screen".
Next, click "Choose File" to select the CSV file created earlier.
Click on "Continue".
This opens the Column Mapping screen, which does the job of matching column names from CSV files to WooCommerce parameters.
Next, click "Run the Importer". Once this is finished, your SQUARESPACE products will be accessible as WooCommerce products. It is advisable to take help from experts in the field of SQUARESPACE to WordPress migration. This will rule out the possibility of any errors during the process.
How to Find an Agency for SQUARESPACE to WordPress Migration?
Even though this migration is comparatively easier than other CMSs like Drupal and Django, it is recommended to search for experts in this field and rely on their service. As they know the nuances of the migration process, it will help to prevent even the slightest error.
Conclusion
Migrating from SQUARESPACE to WordPress takes just a few hours. It is an easy process but definitely demands thorough knowledge and expertise. Switching to WordPress gives instant benefits, starting from a higher ranking to a feature-rich website. WordPress is the best CMS for long-term business perspective so, migrate to it, without any doubts.
If you are looking for a CMS migration service, KrishaWeb has a pro team that masters switching from one CMS to another.
Feel free to connect with us for more details.