What We Do
Make the most of the web with KrishaWeb's digitally focused services.
Web & Brand Identity Design

Attract and engage your website visitors within just 5 seconds by delivering the unmatched user experience and professional looking website design. Creative website and corporate identity design allow you to stand out in the race.

Web & Brand Identity Design Services

Web & Mobile Development

Development is the crucial area to be taken care for any website or application. We offer robust development solutions for any technology, any device. Magento, ROR, Android, iOS are just naming a few of our expertise.

Web & Mobile Development Services

Digital Marketing

Digital Marketing provides the real change in your business to grab the most emerging web marketing. SEO, PPC and Content marketing are the basic kit of the Digital Marketing but just can't let the Social media marketing and visual promotions miss out from your marketing campaign.

Digital Marketing Services
Our Latest Work
With clients all over the world and a passion for everything digital, our work speaks for itself.
Take a look
inside KrishaWeb to see what makes us click.
45%

Right-brain dominant

4.8

Terabytes of work

33%

Favor Macs

40

Team members

1/4

of Catch have tattoos

3

of us are expert bakers

8

nationalities make up team

33%

of us have beards

15

novelty mugs owned by employee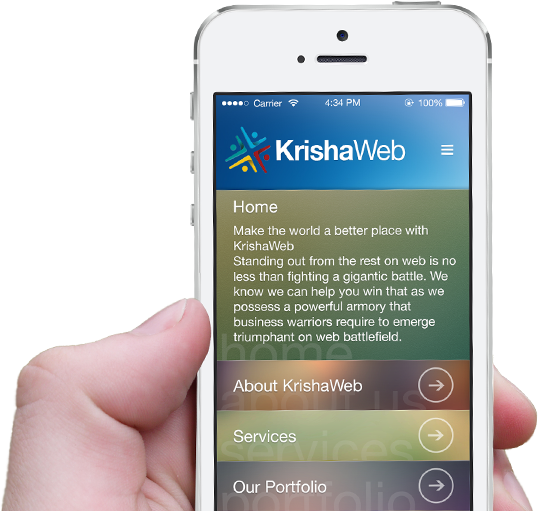 About us
KrishaWeb Technologies began its operations in 2008, and since then it's been offering state-of-the-art web design and development solutions to companies worldwide. In a small time frame, we have come a long way to work with clients from across different industries, meeting their web development requirements within available budgets and stringent deadlines. What began as a humble IT operation in the western Indian state of Gujarat has today achieved a global recognition through sheer hard work and dedication.
We are proud of our highly qualified, creative, and enthusiastic team of professionals who give their best shot every time. This includes Web and Graphic Designers, Developers, Branding Specialists, Online Marketing Consultants, Programmers, and Project Managers working towards the common goal of keeping clients happy. Incorporation of innovative web marketing methods and technologies signify maximum conversions and relevance.
Do you know what gives our company an edge over our competitors? We consider both the current and future needs of businesses when developing our web solutions. No wonder doing business with us makes a winning choice!
Why us?
When you are looking for world-standard web solutions without breaking the bank, KrishaWeb Technologies is just what you need. We have the expertise and the experience to offer premium web solutions that speak for themselves. So, why choose us when so many companies are offering similar services? Here below are a few reasons for your benefit;
We employ the leading talents in the industry
Every project for us is unique with special requirements to meet
We offer unsurpassed performance & maintain stellar work standards
Use of latest web innovations to bring your business to forefront
Bespoke design & development suited to your specific needs
By choosing KrishaWeb for your projects you are selecting a top-notch service provider, because WE LISTEN to what you have to say and above all, LOVE WHAT WE DO. So when you are no longer in a mood to experiment and want results for a change, do not forget to give us a call!
Key features
KrishaWeb Technologies offers a host of solutions to clients spread across varied industries. This includes Web Design, Logo Design, Animation, Multimedia Services, E-Commerce Solutions, SEO, Open Source, Mobile Application, and Web Development. Here are some of the key features of the services that we undertake.
Attractive Interface
We understand that a professional and attractive guise of a website speaks for the business. Our programmers work meticulously to create stellar web interfaces to help you gain a wider customer base and achieve ROI in shortest time frame.
Optimized Content
SEO friendly content, graphics, and features are the signature of our online marketing strategy. Our developments are both search engine and social media optimized for ensuring maximum exposure.
Cross Platform Compatibility
We emphasize cross platform compatibility across our software development solutions. This offers maximum usability to the target audience, especially with so many devices flooding the market, today.
Weekly web industry updates – 26th September to 02nd October, 2015

Hello Everyone! Welcome back for another weekly web industry update blog. Let's take an overview of the most important web updates of the week. iPhone6 and iPhone 6s has broken...

Features that make YouTube better adverting platform

YouTube has become the go to place to view anything for the online users. YouTube video viewers are tremendously grown over the last few years. This naturally increases the opportunities...

Weekly web industry updates – 19th September to 25th September, 2015

Hello Everyone! Welcome back for another weekly web industry update blog. Let's take a look over the most important web updates of the week. Microsoft's messaging service 'Skype' has faced...


"We are very Satisfied and happy of the great graphic design work. Thank you so much for taking my vision and making it happen! I love the way it worked out aesthetically and functionally it's just what I imagined it could be. I am Thankful to KrishaWeb for supporting my dream and making it true."
-Nodar Genosjan
Join our list of happy clients.