Google unveiled the Street View in Egypt on this Tuesday 30th September, 2014. You can now enjoy the 360-degree view of the great Pyramids of Giza from your home by walking through the Google Street. In addition to pyramids you can also have a look over the necropolis of Saqqara, the citadel of Qaitbay, the Cairo Citadel, the Hanging Church and the ancient city of Abu Mena few other historic Egyptian sites through Google Street Views.
Google has started Street View Program with Google Maps back in 2007. They have traveled all across the world and cover more than 7.2 million unique miles in more than 59 different countries. The mission of the Google Street View is to act as a digital mirror of a physical world, so that viewers can virtually visit the place they might never visit personally. The Google street view team has visited different locations and captured some of the iconic landmarks and monuments that include the famous Taj Mahal from India, Galapagos Islands, Angkor Wat, Mount Everest Base Camp, Venice – the city built on water and the Grand Canyon.
The Google Street view team collects the images through the 75-megapixel 360-degree panoramic cameras fixed on the top of the street view cars. The challenge becomes tough where they travel to places like Egypt, where reaching the destination through car is not possible. They used the Trekker technology to get the pictures of the pyramids. It was definitely a hard work because instead of the cars and the automated shooting system Google has sent their team of Trekkers on feet hanging the backpack on their back with cameras mounted on the top.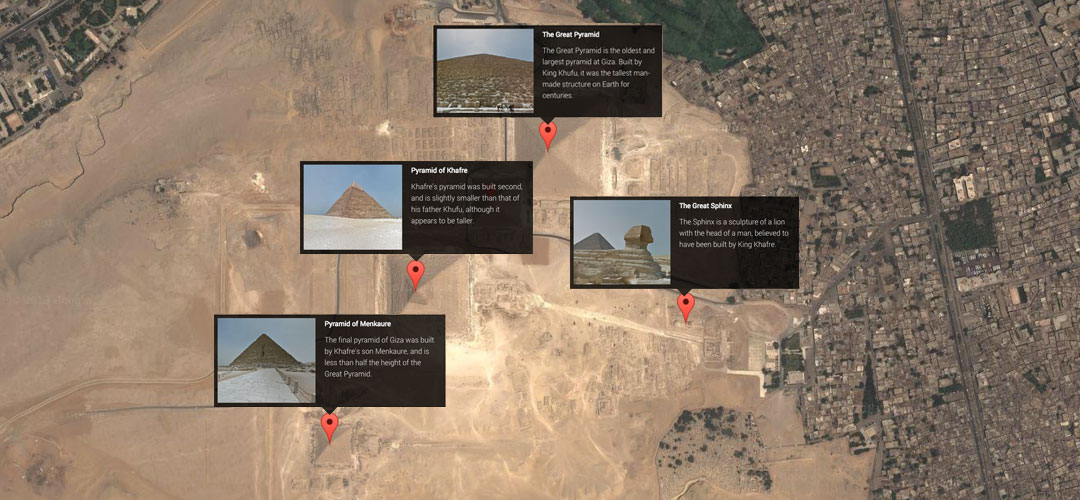 Google Maps Street View program manager Amita Khattri also agreed that it was all different experience for their team to work in Egypt. "It was a unique experience for us as well, because the equipment really got tested in the heat," – said Amita Khattri. The collected photos by the trekkers then get stitched together to present the perfect panorama picture. The whole process of creating panorama pictures and burning faces takes a few to several months to get completed. As a result, we can get the clear street view of the location, we like to be in.
It is the first time when Google has documented any part of Egypt. I am sure that it will interest many travelers to visit the pyramids of Giza personally. Google trekkers are moving all across the world and documenting the world's most beautiful places. Let's wait for what Google comes close to us next, but till let me show you the Wonders of World from the Google's view.