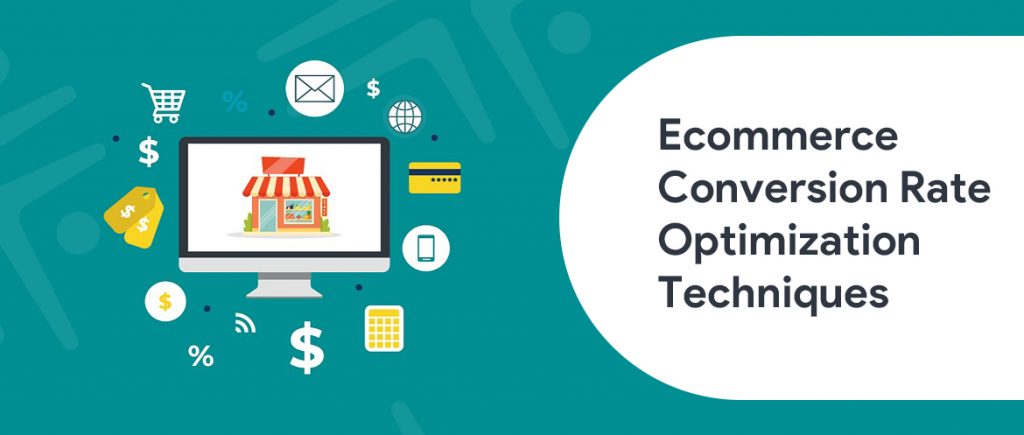 The trend of purchasing things digitally over the internet has turned into a widespread obsession for Generation Z. While no one fully understands this, eCommerce is continuously evolving and is here to stay for a long. Ecommerce websites just like yours trying to get their products in front of the right audience and make them opt-in, buy, or engage in a swarm of millions of eCommerce websites. Though it is a tough nut to crack!
Here are some eCommerce statistics to prove the enormity of competition in today's eCommerce marketplace.
Today there are nearly 1.3 million eCommerce websites only in the USA (Can you imagine the number of eCommerce Websites figure worldwide!)
The prediction for the market is that it will hit a global revenue count of $4.88 trillion by 2021
Nearly 70% of marketers believe their current strategy is ineffective (HubSpot)
53% of customers will lose interest when your website takes more than 2 sec to load and every single second delay result in a 7% conversion reduction
What is Ecommerce Conversion Rate?
Conversion is encouraging your customers to purchase from the business. It is a critical metric to consider as you plan to expand and increase sales and revenues.
While Conversion Rate is the percentage of visitors who land on your website and complete the desired Call-To-Action. Thus, you must identify your goals to align accurately with your defined conversion rate.
Some typical conversions related to the eCommerce website are as follows…
Online Sale
Newsletter Subscriptions through email sign-ups
User adding a product to the cart
Share on social media
User adding items to a wishlist
User adding items to the wishlist
Product Purchase
The main aim of any marketer is to convert visitors from different traffic sources to active buyers. Thus, visitors who buy from the eCommerce store represent the conversion rate for the business. And every marketer uses optimization strategies to improve the eCommerce Conversion Rate. And yes, these strategic efforts are covered in Ecommerce Conversion Rate Optimization (CRO).
What is Ecommerce Conversion Rate?
Conversion is encouraging your customers to purchase from the business. It is a critical metric to consider as you plan to expand and increase sales and revenues.
While Conversion Rate is the percentage of visitors who land on your website and complete the desired Call-To-Action. Thus, you must identify your goals to align accurately with your defined conversion rate.
Some typical conversions related to the eCommerce website are as follows…
Online Sale
Newsletter Subscriptions through email sign-ups
User adding a product to the cart
Share on social media
User adding items to a wishlist
User adding items to the wishlist
Product Purchase
The main aim of any marketer is to convert visitors from different traffic sources to active buyers. Thus, visitors who buy from the eCommerce store represent the conversion rate for the business. And every marketer uses optimization strategies to improve the eCommerce Conversion Rate. And yes, these strategic efforts are covered in Ecommerce Conversion Rate Optimization (CRO).
Learn How To Calculate The Ecommerce Conversion Rate…
For calculating the conversion rate, simply divide the total number of conversions (actual number of people who buy your products) by the total number of visitors and multiply this by 100 to reach the conversion rate percentage.
(Conversions / Total Visitors) X 100% = Conversion Rate %
For example, let's say your online store is getting visited by 50 people in 1 month and through those visits your eCommerce store gets 5 conversions; then the conversion rate for your site would be 10%.
It is possible to be as broad or specific as you want with the conversion rate. You can examine your business performance by using conversion rates of various types.
Overall rate to determine the conversion of traffic from more than one source
Page-level rate to identify the page performing the best
Marketing channel rate to determine the success of Instagram or Google ads
Individual ad rate to determine whether ad copy or your content efficient
Campaign rate to determine whether the campaign converted people
Keyword rate to identify keywords that attract the right traffic
Calculate the conversion rate and use this as a metric to evaluate the performance of different online marketing efforts that you make. While it is a good thing to drive clicks but when these do not drive value to the business, advertising campaigns become ineffectual.
What would be a Good Ecommerce Conversion Rate?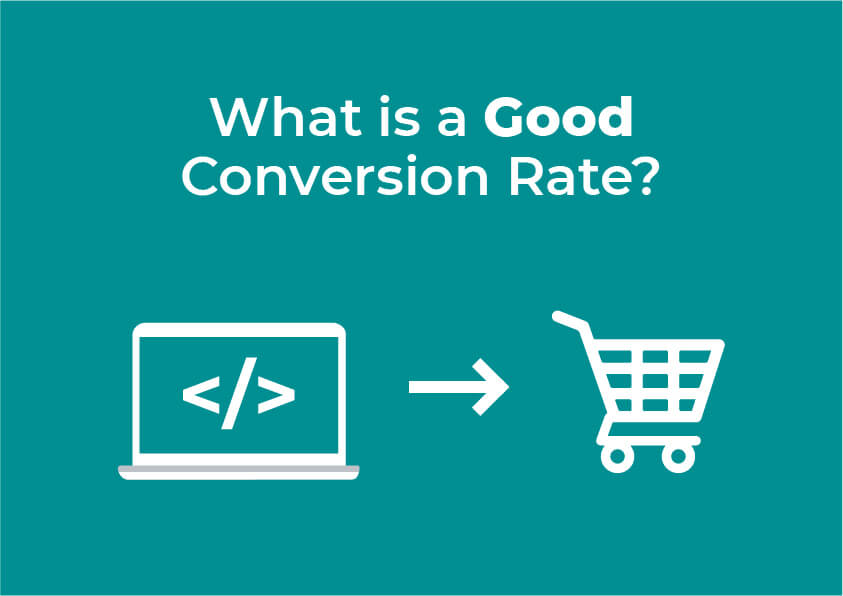 Here are some statistics…
Average eCommerce store typically sees its conversion rate as a good figure hovering around 2-3%.
According to data collected by SmartInsights, the average conversion rate of eCommerce stores across industries through Q2 2018 was a mere 2.86%.
A good conversion rate, in general, refers to one that is higher than the current rate for your business. While an industry benchmark provides a good baseline for the rate across an industry or market, it even leads to unreasonable expectations. Thus, you should aim for a conversion rate that meets the industry benchmark. Consider your current rates and then decide what you wish to achieve in another month, another six months, or another year.
Different factors impact the conversion rates for your business, such as;
Number of products a business sell
Price points in comparison to the competitors
Look at marketing copy
Use of videos and images to sell products
Channels delivering the most traffic for the store
Consider rates specific to the business to decide whether you are doing well.
Additional Read…
Before starting with Ecommerce Conversion Rate Optimization Techniques, you can refer to this Ultimate Ecommerce SEO Guide to Follow…
Use the Following Tools to Improve your Ecommerce Conversion Rate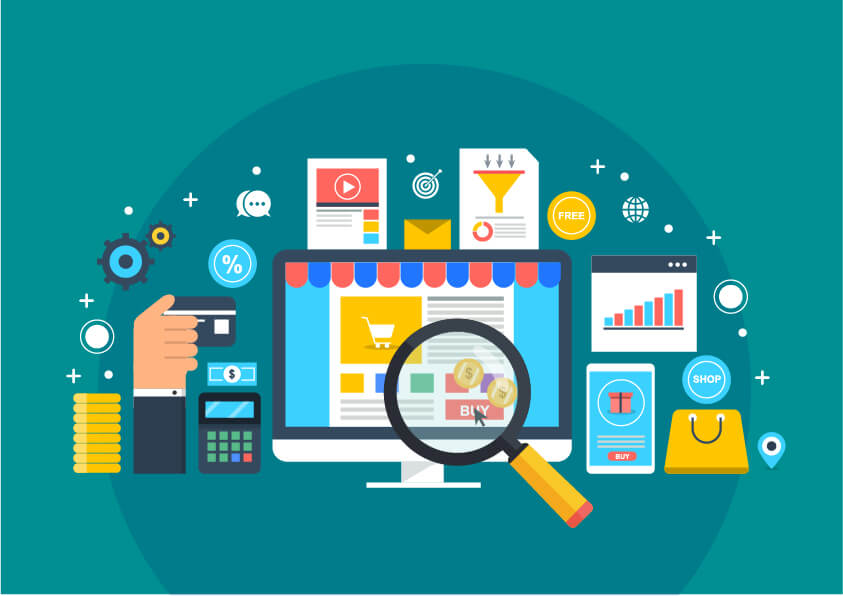 You can use this tool to understand user interaction with your website from high levels. This is a heat-mapping tool and it gives users functionalities of cursor movement, scroll-depth and clicks mapping.
Based on your plan, the heatmap experiment captures 1000 to 10,000 page views, and compile aggregate analysis. Even you can analyze real-time customer behaviour with session recording. Page targeting records the user sessions so that you watch it to understand user interaction with user-face on the organic level.
Quantcast Measure is the only free audience-insights tool that uses direct measurement to deliver real-time insights from across the web.
This is a newer addition as a go-to product for the analysis table and proves to be valuable by multiple measures. This tag-based tool for analysis fills a niche between Facebook and Google Analytics by measuring site usage of the users and this provides demographic advanced data on a per-click basis. This way you get deep insight regarding the visitors on a personal level and it is possible to translate this into business intelligence. Creative teams use this to tailor imagery and messaging that resonates with your audience.
If you have a store running on BigCommerce, the platform has an in-built Analytics section in the administration panel that shows everything like all abandoned carts including what products were in the cart at the time of abandonment.
There is also analytics on "In-Store Searches" that will show you what customers are typing into the built-in BigCommerce search tool. And BigCommerce's underutilized conversion optimization tactic helps you bridge the gap between what your customers are looking for and your on-site language and content. You can visit your BigCommerce Analytics for real-time experiences.
This tool offers click maps, heat maps, A/B testing, scroll maps, and user recordings. Do you know? Over 300,000 websites use Crazy Egg to improve what's working, fix what isn't and test new ideas.
It provides visual reports and individual session recordings to get to know your website visitors – where they're coming from, where they're navigating to, and where they're getting stuck – so you can make design changes with confidence.
For most websites, I suggest setting up Google Analytics or something equivalent.
This gives you a great view into your website visitors including:
How visitors found your website: This could be from keyword searches in google, referral websites, or direct visits.
How long do visitors stay on your website?
Where the visitors are from.
If the visitors are returning or new.
What browser, the operating system was used and if the visitor using a mobile device or desktop/laptop?
How many visitors converted (based on goals set up) and the interaction that leads to the conversion?
Link to your Google Adwords campaign to track paid traffic as well.
Optimizely is the world's leading experimentation platform, empowering marketing and product teams to test, learn and deploy winning digital experiences, every time. This is a leading tool for A/B testing. This prominent experimentation platform empowers the product teams and marketers to deploy learn, and test winning electronic experiences at all times.
Jotform Survey Maker
Jotform Survey Maker enables you to get the answers you need quickly and easily. It is a great tool for marketers who want to learn more about their market and what their customers think. Jotform offers 800+ survey templates along with drag-and-drop customization. This way you can create a survey that fits your needs perfectly. You just need to add your own questions to create engaging surveys and share them online to collect responses instantly. It also allows you to track and analyze your survey data.
Survey Monkey lets you create surveys online for free. You can get feedback at scale & in real time. With pre-written templates, you can create unlimited online surveys in minutes! This is a leading resource available to marketers that wish to learn things regarding their target market. Just ask them the questions you want and it gives you accurate answers.
Clicktale is a Software-As-A-Service (SaaS), cloud-based analytic system and service that allows you to visualize your customer's experience on your website. It enhances the existing reporting and analytics with behavioural unique data captured on a scale that provides context for every interaction. This gives you scalability at an enterprise level with rich data visualization.
Ecommerce CRO Tips to Boost Website Conversion Rate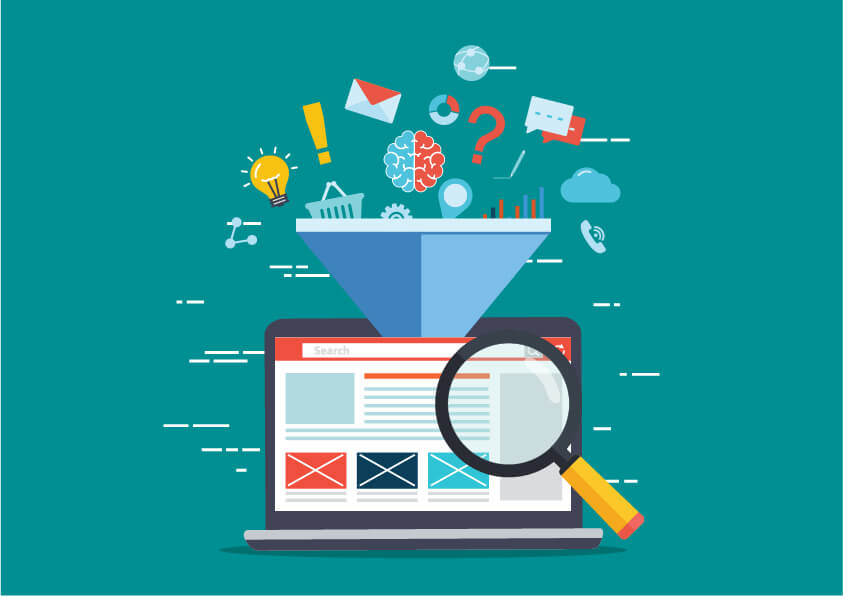 Website Speed Optimization
Optimizing your website's speed helps to optimize the user experience for your customers and increase satisfaction. If your site takes longer than two seconds to load, 53% of your customers lose interest. Even a delay of a single second can result in a 7% reduction in conversions, so consider the optimization of website loading speed as an essential part of eCommerce Conversion Rate Optimization.
What you can do about it?
Test your Website's Speed, How fast it renders!
Check your hosting plan, whether it is a high-performing version or not!
Go for Image Optimization. Ecommerce Images Optimization can benefit you greatly because images with high clarity occupy more space on the website source.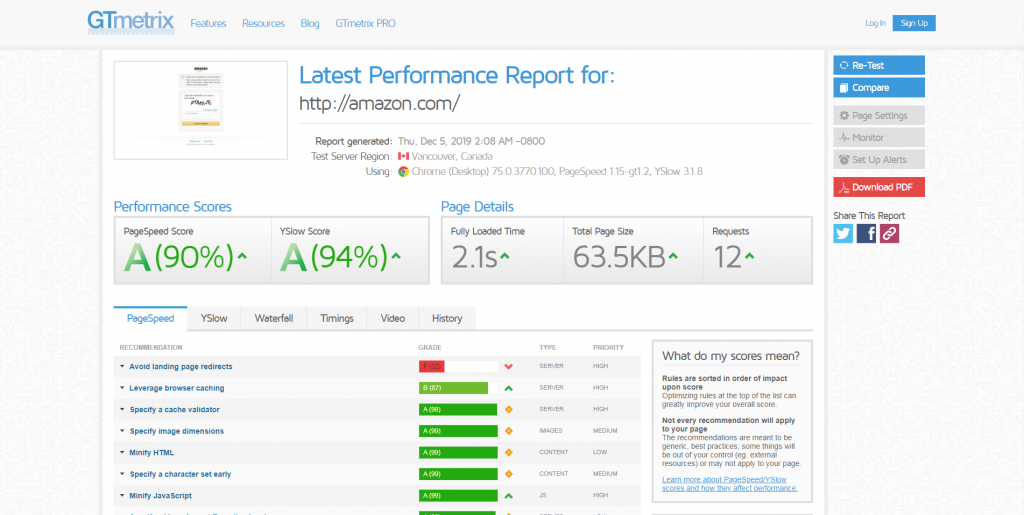 You can use Google PageSpeed Insights or GTMetrix or Pingdom to figure out your site's baseline speed.
Keep Layout Clean and Simple
Clean and Simple Layout will help you showcase every feature of your eCommerce store easy to find and interact.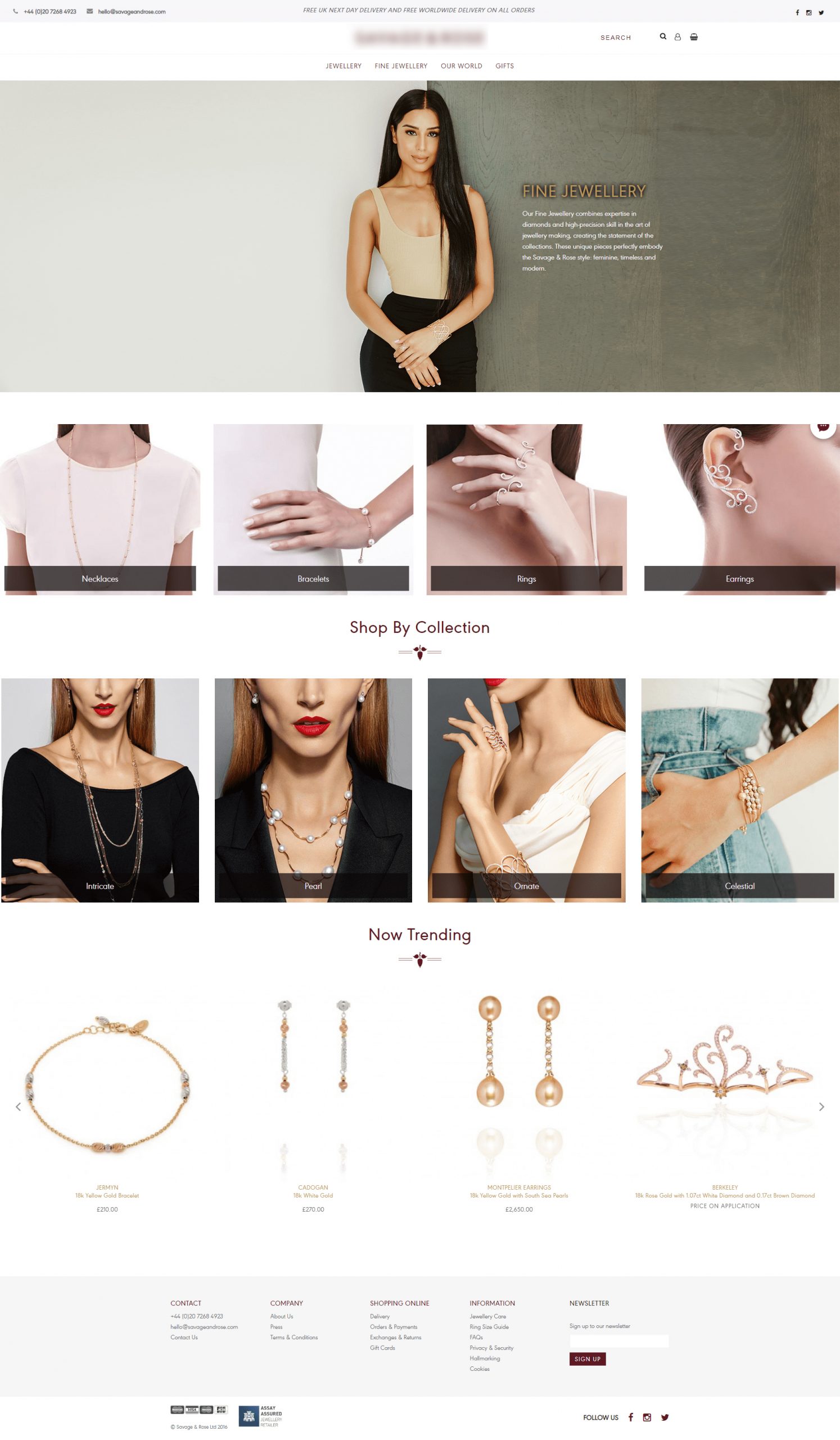 And in the end, a good user experience on your website will help to make product purchasing decisions.
Additional Read…
What you will find here: Practical Tips on How to Improve the UI/UX Design of Website for More Conversions.
Optimize for Both Desktop and Mobile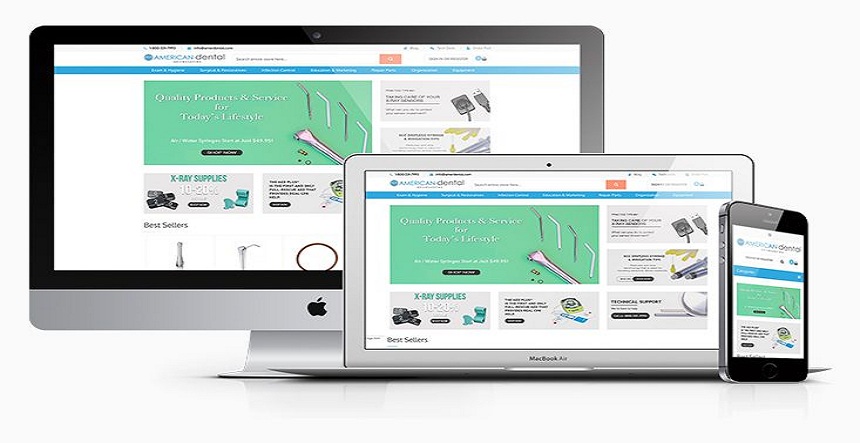 Simply, you do not know the choice of the device of your target customers so optimization of your eCommerce platform for both mobile and desktop devices is necessary.
Using a responsive design for your eCommerce website, it is possible to reach the maximum number of customers with your products and increase the rate of conversions.
In short, keep your eCommerce Website pretty responsive for every device.
Add High-Quality Product Images and Videos
The best thing you can do is show a detailed image or product video so that the customer can know what exactly they are getting. Here are some improvements that you can make right now without spending anything.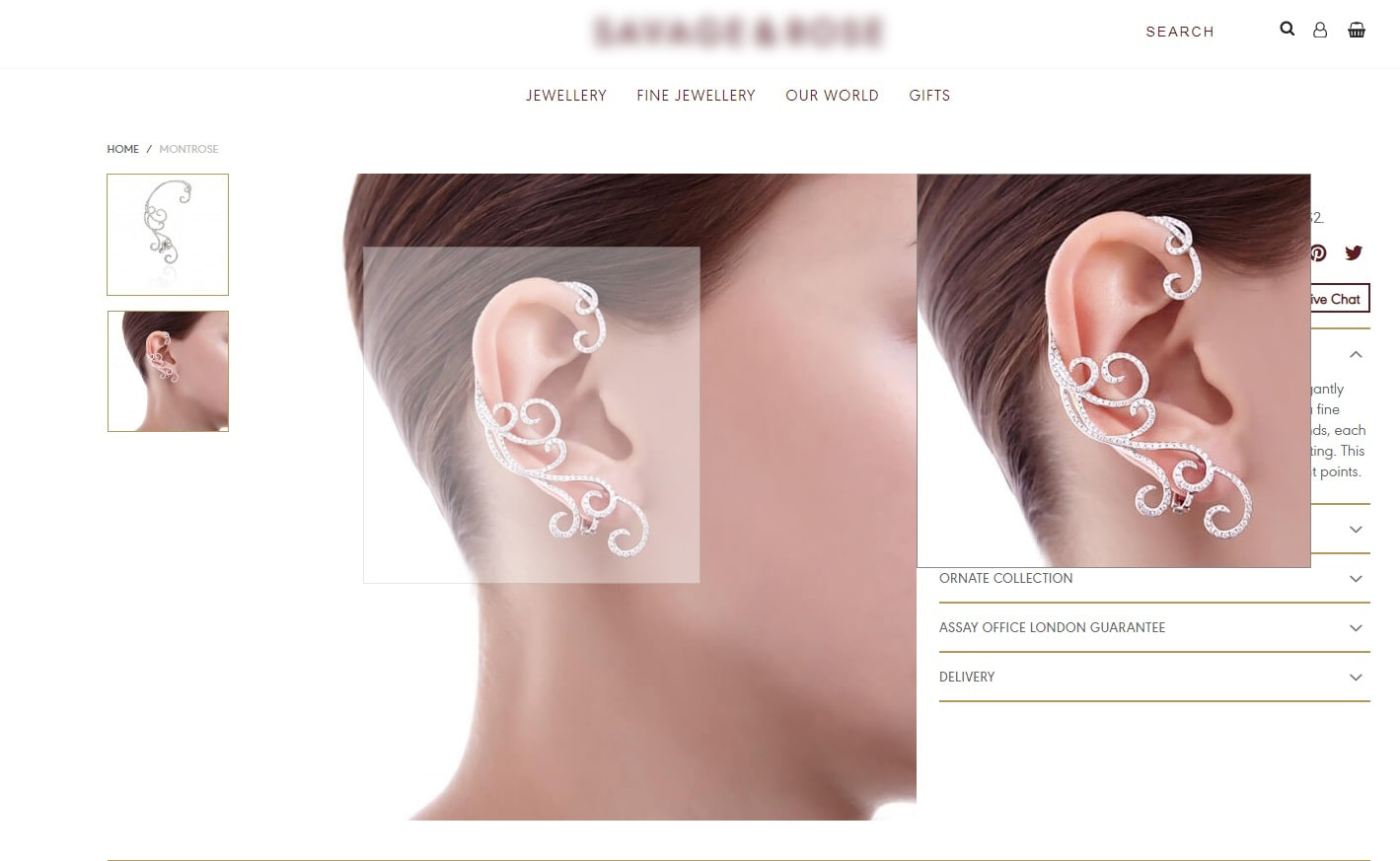 Create higher interactivity with product images. Allow users to pinch, zoom, rotate, and scale the images to their liking.
Use a high-resolution photo if available.
Add white space around the product photo.
Use as many photo angles and options as possible.
A high-quality product image is good, but the product video is much better for adding the product demonstration with touch and feel. If you're not doing product videos yet, do them for your products and see if it makes a difference.
Use Cart Abandonment Software
If you are getting a lot of abandoned carts like a visitor lands on your site, puts an item in the cart and then leaves! Then abandoned cart software can really help you to increase your store's conversion rate.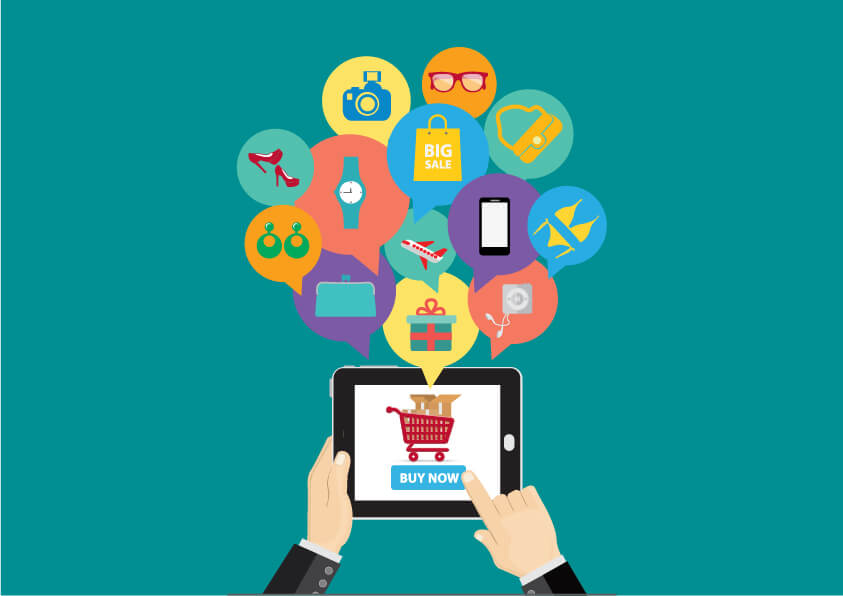 This software works with users that have added items to their shopping cart, entered their email and details and then left your store.
The Cart Abandonment software allows you to create follow-up emails which will be sent to the users via email with their cart contents as well as a coupon code (if you offer to retain that client!) to get a discount to make them complete their orders.
Easy Checkout Process
If your store's checkout process is too long, complicated or unconventional, you may lose a lot of customers right as they are ready to buy.
With the easy checkout process, the buyers will not find difficulties at any stage of the checkout and can purchase your products smoothly.
Allow Buyers to Checkout as Guest
Let your customers allow browse and complete their purchase without going through the lengthy signup process.
If they are happy with the results, they will definitely go through the signup process for future purchases!
Create Demand For Your Products
Use proven marketing strategies to create anticipation among your buyers. Promote exciting product deals with competitive prices and time-bound beneficial offers on seasonal trends.
Also, you can use scarcity to create a sense of urgency in the potential customers to close sales.
Creating urgency is easy, just apply these tricks:
Add Limited Time Offers
Available Stock or Inventory Size Scarcity For Ex. Hurry Up… only 3 left in stock!
Create Time-bound benefits on purchase For Ex. "free shipping if you purchase before midnight."
Discount and Coupons Option
Nowadays online shoppers are habituated to shopping the products at a cheaper price than the actual amount. They often get coupons and discount codes from Endless sales, Groupon, and its clones, etc sites.
So, think about giving your customers the opportunity to save money with xx% Off coupons and discounts on their purchases so they feel excited and get back to you occasionally.
Just do whatever you feel is right for your brand, but think about "this" to sustain your brand in the competitive market.
Provide Maximum Product Details
Clear and descriptive product information matters a lot to convince the buyers to make them click on the "Add to Cart" or "Buy Now" button.
Just make a clear page design of the product you offer with all the essential information like
product features
technical specifications
available colours
available sizes
dimensions
weight
pricing
product reviews and ratings
delivery options and more. So that the customer can make informed purchase decisions.
The descriptive product information allows customers to build up their mindset effectively as they get complete information regarding the products that interest them.
Easy Filters and Easy Search
Using various options to filter the products, buyers will able to find the exact product they want to be based upon their interest. The easy structure of your site keeps them interested and stays on the website for a long.
While on the other side, allowing visitors to "Search" the products site-wide is crucial for any eCommerce website. People need to find the products fast of their interest. Around half of the audience navigates the eCommerce site using the website's search functionality.
And additionally, if you use the auto-suggest feature for product search then that would be a great benefit for visitors. It would be considered a part of the great User Experience on your website!
Show Product Recommendations, Related or Similar Products
You can set the slider rotating of featured products, best-selling products or related products on the product page.
Recommend the products forming the good product combinations which people often prefer to buy together.
Showcasing the suitable product options before your buyers' eyes can make their purchase decisions easier. These all depend on your eCommerce Website Development…
Use CTA (Call-To-Action) Wisely
Make your CTAs (Call-To-Action) prominent and in a tone that the customers simply cannot deny what you want from them so they act accordingly.
For example: If they are on a product page, you should use 'Add to Cart'. And if they are on the Cart page you can use 'Proceed to Checkout'.
Offer Free Shipping (Bare The Shipping Cost)
In today's market, free shipping is an absolute must!
75% of regular consumers expect Free Shipping on all orders (Even on orders under $50!). Amazon gives free shipping and some conditional shipping schemes. But there is no shipping charge and additional benefits for the entire Prime Membership customer audience!
So, Free Shipping is like another incentive for the customers to purchase from your store as this gives them an opportunity to save money on free delivery with every purchase.
Offer (Instant) "Same Day Delivery"
Do you know? What is the main advantage of purchasing products from Physical stores over an online eCommerce Store?
"Immediate possession of purchased product"
When you purchase online from any eCommerce store, you usually have to wait a couple of days, or in some cases a few weeks, to get your desired product on your hands.
It's a human mentality, that people generally like to get hold of what they want "immediately".
If you offer same-day delivery, rest assured, a majority of your visitors will want to buy from you because of the immediate delivery incentive.
Amazon Prime is an example of an eCommerce giant taking advantage of the "same-day delivery promotions".
Clearly State Your USPs (Unique Selling Proposition)
Let it be clear at the initial stage,
yes, showcase your Unique Selling Propositions which will clear your picture of yours in front of customers and tell what makes you different from other brands in your niche. And why they should buy from you…
Strong Value Proposition
Too many eCommerce websites forget to communicate their Value Propositions effectively. See, people arrive on your site but if they are not able to figure out what is your site about in minimal time, they will leave your site. And it will cost you to lose valuable sales.
Just showcase yourself on your store as a seller, and people would get a clear idea about you and what you sell within seconds as they land on your site.
Use Product Reviews as Social Proof
You aim to ensure that the customer gets the confidence with adequate information about a particular product to make their purchase decision.
But People use reviews… Start collecting and showcasing the reviews on your website as well as on social media via the social sharing button or you can pull them from external sites as well.
Product reviews as social proofs give a clear idea and increase the trust level to the customers for the product. And, in the end, it helps to improve your website's conversion rate.
Use Live Chat Support
Assist your buyers through live chat to troubleshoot their issues. Live chat software let you interact with your customers on their doubts so that their confidence increases and they stay for a long.
Never let the live chat software go into the mode that says you are currently unavailable and that they can leave a message. It will create a bad impression!
Creating a real human connection will help build trust for their purchases as well as lifetime loyalty for your brand in the future.
Integrate Automated Ecommerce Chatbot
If you have come across big platforms (like Facebook, WhatsApp, Twitter, and Google), even they are integrating bots in their instant messaging systems to help users with shopping, bookings and customer service.
The term itself demonstrates the blend of two words… "Chat" and "Robot". Chatbots are basically automated chats that use Artificial Intelligence (AI) to interact with customers to collect their requests and provide appropriate responses.
An "eCommerce Chatbot" is a revolution in the way a business interacts with customers. A chatbot lets users track shipments, and simplify payments, or it even acts as a personal assistant that accompanies the user throughout all the stages of a buyer's journey.
Sounds Interesting!!! Then, what to wait for? Just implement it… Setting up Conversational Chatbots for your eCommerce website is just a one-time process.
Here, you can find a few of top rated eCommerce Chatbot Softwares Conversational AI Platforms
Highlight your Contact Details
Make your phone number, email and address clearly visible. It builds a trust level.
A clearly visible phone number or email shows that you're a real business.
And this helps you increase your brand loyalty.
Let Your Customers Feel Safe
Let your customers feel that your eCommerce store is secure for online transactions. You need to build a certain level of trust in a short amount of time for customers to be willing to enter their credit card information on your website to make any transaction.
Finding ways to build and improve your on-website trust and credibility need to be the basis for many of your conversion rate optimization activities. Customers always want to ensure that the eCommerce Store with which they are dealing is safe or not!
Because they know, the security will keep their credit card details protected. Here are a few parameters which can help your store to achieve that trust level:
Install SSL at checkout (out-of-the-box on most eCommerce platforms) or on your whole eCommerce store if possible.
Show a small image of credit cards, PayPal, and other payment alternatives as a visible sign which you use customer-trust payment options.
Display some security signals like McAfee, GeoTrust, or different safety badges, and ensure that you have an active account with them. Don't simply add an image if you aren't truly secure.
Good Product Return Policy
Simple return policies increase the confidence of the buyers as they know that they are making the best deals with their purchase decisions.
This acts as a USP (Unique Selling Proposition) of the sellers.
Ask For Email
Generally, emails are a good communication medium for your target group as you can inform them about any new launches or product options in real time.
Use attractive and interactive email-asking popups. It will create a database of emails for you to target users in email marketing.
This increases the loyalty of the customers to your brand and makes them return whenever there is something new and exciting available.
User Retargeting on Various Platforms
User retargeting campaigns will help your store to attract customers more frequently from various sources to your website based on their "previous actions on your store".
It will create a pretty large existing audience of regular buyers.
Setting up a remarketing strategy for your eCommerce website is extremely useful to increase traffic, conversion rates, and customer retention over time.
The intent of remarketing is to show potential customers new ads focused on the products they viewed on eCommerce, personalizing their ads and trying to recover the potentially lost customer. This advertising technique is based on the use of an anonymous cookie that is released when a user accesses the website.
The cookie is used to track the visitor's browsing on other sites, in order to show him more and more times ads related to the products displayed by him, to stimulate him to convert. Every time the visitor is exposed to the announcement, he can define a "contact point".
Social Media platforms can also be used for remarketing: for example, on Facebook Remarketing, you can reach those users who have visited your website, group them according to different rules and use the audience segments that are targeted to their Remarketing Campaigns.
Allow Shipping via Social Media Accounts
This will increase the brand visibility of your eCommerce website and the maximum number of people from the vast number of social media channels will engage with your eCommerce store.
Show The Progress Status of Visitors
People like to be in control and to be known about their journey on your website.
What steps have I completed and what has been left to do? How much longer will this take? This thought process is usual in every buyer's mind!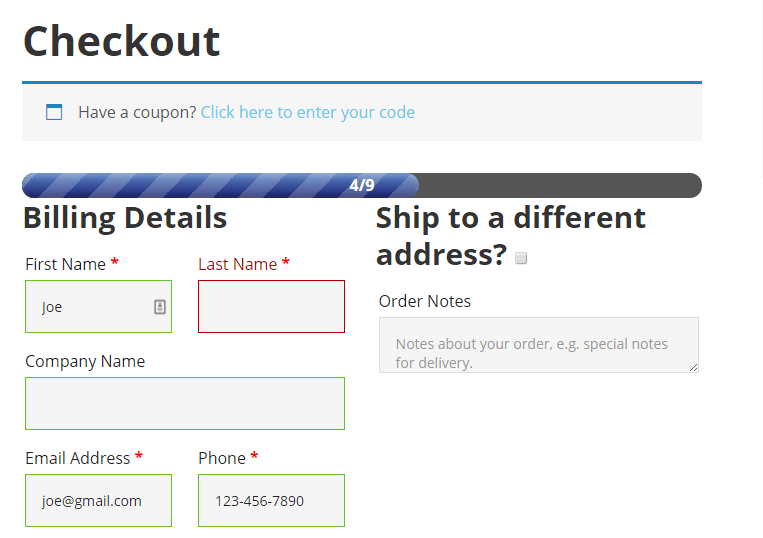 And that's why numbered lists are better than unordered lists and they can get to know their clear progress status on your site.
Multiple Payment and Delivery Options
Giving multiple payment methods and suitable delivery options will make your buyers feel comfortable and be relaxed to pay in the mode they want. This keeps their interest in your products.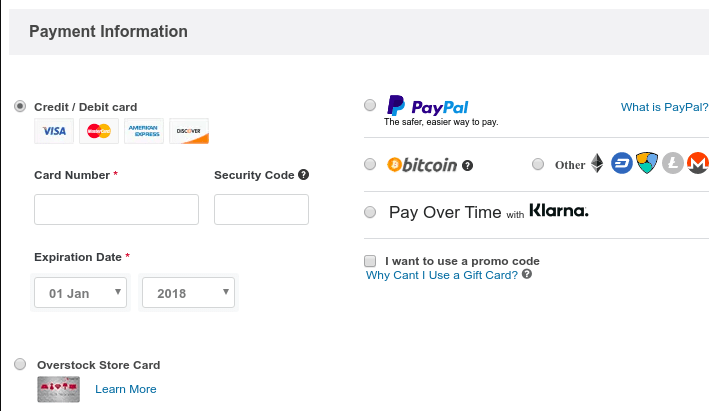 Digital wallets help tremendously with this.
Digital wallets are payment processors like PayPal Express, Amazon Pay, Apple Pay, and others.
Adding payment options like PayPal and Credit Cards will help you win over customers.
Persistent Shopping Cart Option
A common behaviour of buyers is to add products to a cart so they can return there later. If upon their return, if they discover that the contents of the shopping cart have expired, they will not start from scratch (too much hassle!).
What's the solution? Persistent shopping carts.
By using a persistent cookie, the shopping cart will wait for users to return for a day or even a week later.
An alternative to this is to give the user the option to save their shopping cart. Offering to email the cart contents to a user is a smart way to stay on the shopper's mind (and build your email list).
Keep Forms Short and Simple
Keep your store's form feeling process simple and short, it will make customers happier! For example checkout form,
Unclear forms that have too many fields can delay purchases, especially if users' browsers aren't set up with auto-saved personal information.
Ask yourself if every single row of entries on a form is actually necessary and then cut out the "stuff!"
You should also validate entry errors in real time, not AFTER filling out the entire form. (There is nothing worse than facing to re-fill out forms!)
Helpful Assistance at Any Stage
Provide necessary assistance to your buyers.
Is this store safe? Can I do returns? When will I get my stuff? these are the common doubts of every buyer…
If a visitor has never ordered from your store, they'll have uncertainties.
To satisfy that, make a list of the most common objections and doubts, and address them where required (mostly on product pages and in the shopping cart).
For example, you can create a simple card design indicating Easy Returns, Standard Free Delivery, product FAQs and much more.
Make your customers feel safe and relaxed through your well-implemented assistance signals.
Promote Shopping Cart Content
If you think that once the customers have added a product to the cart, they will make it through the entire checkout process. Nope. You have got work to do here…
Even when they add a product to the shopping cart, it doesn't mean they're going to buy it. You have to keep selling it to them.
The best solution is a perpetual shopping cart that displays the contents of the cart while users browse. That's exactly what Amazon does:
The key is to show the subtotal, the items in the cart, and photos: a constant reminder of what they're about to buy.
If buyers can't find what they have added to the cart they will face problems in checkout and this may result in cart abandonment.
And last but not least…
Add and Test Structured Rich Snippets for eCommerce Elements
How schema can benefit your eCommerce website and products?
First, let's understand what are the common eCommerce elements on which we can add structured schema-rich snippets.
Product and its rating (AggregateRating)
Brands model
Offers & reviews
Product ID
Pricing
Breadcrumbs
eCommerce website Searchbar
You can implement schema in HTML Microdata and JSON-LD format. But HTML Microdata format will be more suitable as you may own a large dynamic eCommerce website.
What's even more important than rankings is the opportunity the rich snippets give you to stand out in the search results of warm prospects (that is, people who are already searching for your product) and increase your CTRs.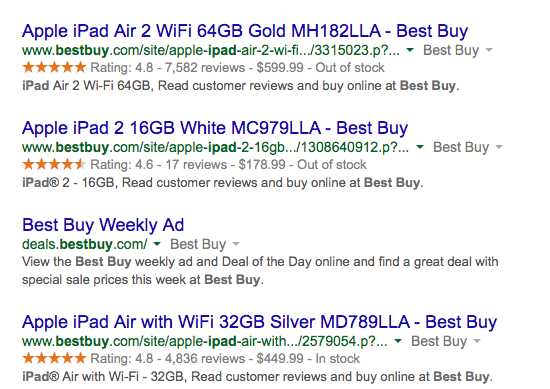 See the screenshot, the one of Bestbuy.com with a five-star rating and X number of reviews catch your eyes, even though its position on the page is less enviable due to Its lower ranking. The extra visual detail it has gives it a much better chance at grabbing a warm prospect's attention (and, ultimately making the sale).
And one most unnoticed benefit of a website "search bar schema" is, it allows customers to search for products on your website directly from SERPs.
So just implement schema for your eCommerce website, and you will surely witness the benefits of that…
!Important!

As per the recent update from the Google Webmaster blog. Google will deprecate the support of data-vocabulary.org for structured data markup from April 6 2020.
It's a signal for Ecommerce website owners that they will have to switch to schema.org markup to be eligible for rich results.
As a preparation for the change, Search Console has started issuing warnings for pages using the data-vocabulary.org schema so that you can prepare for the same. This will allow you to easily identify pages using that markup and replace the data-vocabulary.org markup with schema.org.
Know more about it here "Sunsetting support for data-vocabulary".
Some Important Metrics to Measure the Conversions
Beyond eCommerce Store CRO discussions, a few other important metrics will help you identify the users' behaviour with your website.
They are here because they are the indicating points of every engaged or disengaged user behaviour.
Keep moving these metrics in the right direction will generally help your overall store conversion rate.
Bounce Rate: It's the percentage of people who leave your website after viewing just a single page. A high bounce rate is not a good thing – for some reason, if the purpose of the visitor is not getting fulfilled on your store at first view, they would definitely leave your website just after landing.
Exit Rate: We often get confused with bounce rate and exit rate. The bounce rate is the percentage of people who leave after viewing the page. And your exit rate lets you know the last page that users view before they move on. A very high exit rate on a specific page can be a red flag — this is one metric you can look to drive down with landing page optimization.
Click-Through Rate (CTR): The number of people who click a link to your website from an ad or email. Optimization for AdWords or email marketing campaigns often focuses on getting more users to click through to your website and take action — or even engage on social media.
Find these metrics in your Google Analytics account under "Behavior > Overview".
Average Session Duration: It's an engagement metric that gives you a general idea of how long people are sticking around your site. A high bounce rate means a low average time on site — visitors aren't sticking around long enough to do whatever it is you want them to do (convert).
Average Page Depth (Pages per Session in Google Analytics): It's an engagement metric that tells what number of pages a potential shopper visited before leaving. This metric is simply the total pageviews per session duration. Note that more page views can mean more engagement but also can mean a lack of clarity in your conversion funnel if no conversion is present.
Find these metrics in your Google Analytics account under "Audience > Overview".
Pay Attention! "Some Interesting eCommerce statistics"
40% of shoppers say they will buy a product if they get to experience it through "augmented reality" before they buy it.
60% of people would rather buy a product recommended by a YouTuber than one recommended by a movie or TV star.
65% of consumers make price comparisons on their mobile devices while in a physical store.
85% of regular consumers conduct online research before making a purchase online.
A slow website can increase abandonment by 75%, and brand loyalty drops by 50% when your site is slow.
On average, only 2.86% of eCommerce website visits convert into a purchase.
Online shopping on mobile increased from 8% to 15%, while on desktop dropped from 78% to 63%.
Worldwide, the share of m-commerce (mobile eCommerce) in all eCommerce is expected to rise to 72.9% by 2021.
By 2021, 53.9% of all US retail eCommerce is expected to be generated through m-commerce.
61% of online shoppers made an online purchase related to fashion, which is higher than any other product category.
By 2040, around 95% of all purchases are expected to be via eCommerce.
Alibaba is the largest eCommerce company in the world based on GMV (Gross Merchandise Volume).
43% of eCommerce traffic comes from Google search (organic) and 26% comes from Google Adwords.
SEO has a 14.6% conversion rate compared to 1.7% for traditional outbound methods such as cold-calling or direct mail.
Conclusion
It's all about maximizing your Return On Investment (ROI) by playing the right card using these eCommerce CRO tips for your eCommerce business.
It's up to you… You have the power to lift your eCommerce website above the remaining eCommerce sites. Either you or any suitable agency can help you take you to this level.
All the Best!