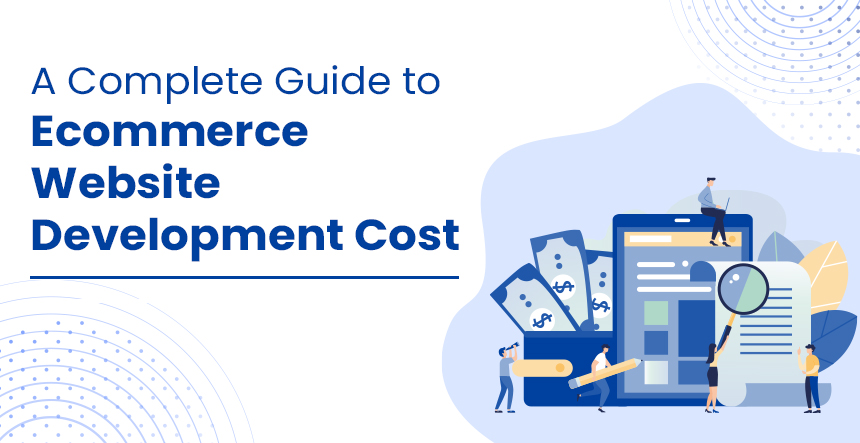 The Craze of E-commerce Retail is Booming!
The craze of online shopping is constantly increasing and so is the need for eCommerce websites.
In order to have an attractive online presence, you'll have to invest in an appealing eCommerce website design, hosting services, and so much more all in one location to get one up and running.
In fact, one of the most common reasons individuals use the internet is to shop. According to Statista,  2020 retail e-commerce sales worldwide amounted to 4.28 trillion US dollars and e-retail revenues are projected to grow to 5.4 trillion US dollars in 2022.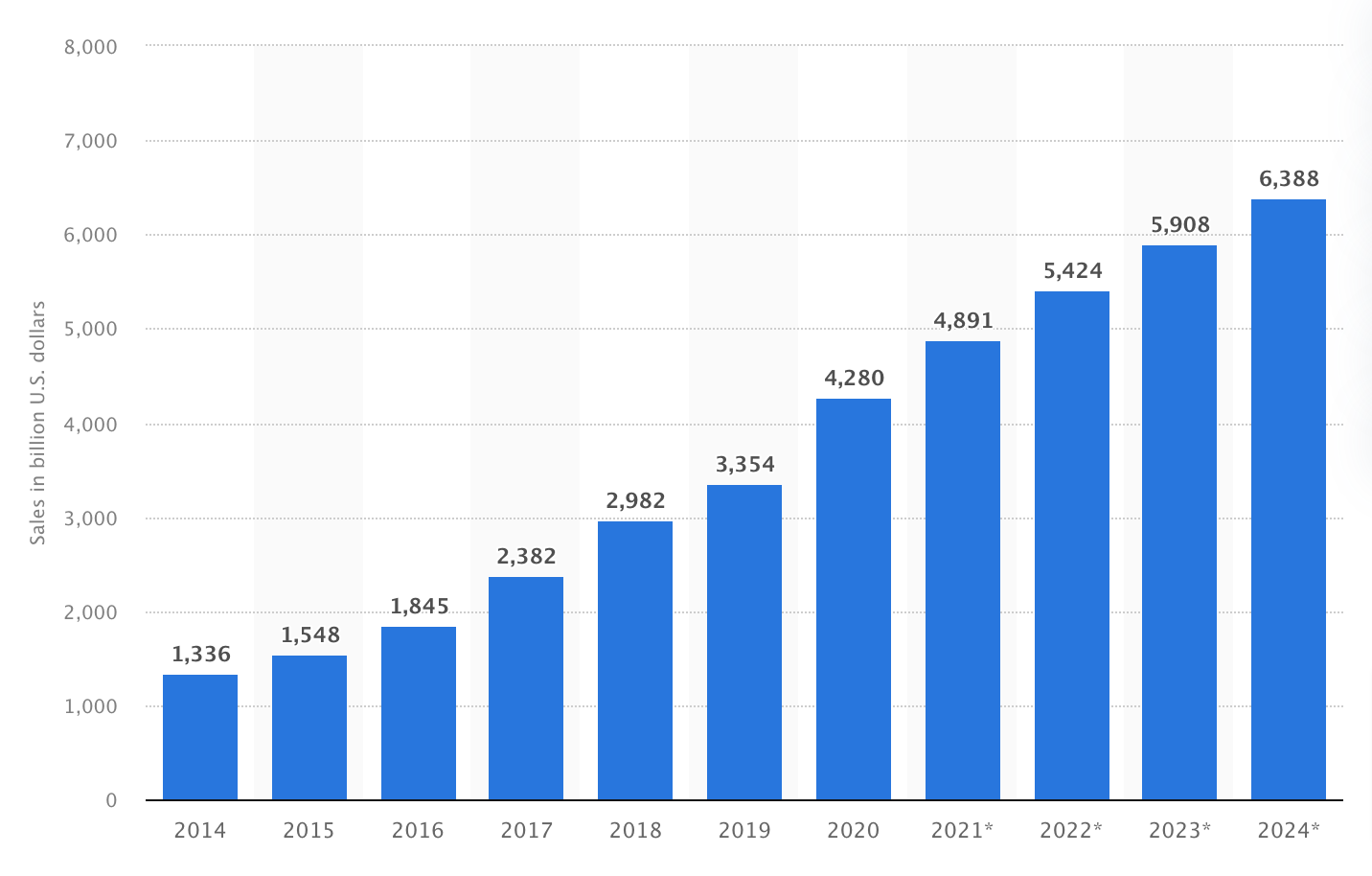 Some More Statistics to Check Upon!
The e-commerce business grew to $4.5 trillion in annual sales by the beginning of 2021.
It is predicted that by 2040, 95% of all businesses would be conducted online.
Approximately 93.5% of all online users make a purchase through online stores.
The commerce industry is expanding at a healthy rate of 23% year over year.
To support the development of interconnected payment services, credit cards are the preferred means of payment for 53% of transactions, compared to 43% for the benefits of digital payment solutions and 38% for debit cards.
Why is Ecommerce Website Cost Important to Determine?
Knowing how much it costs to develop an eCommerce website is crucial since it allows you to estimate how much money you'll need to launch your new eCommerce store.
The problem is that there are many aspects that go into creating an eCommerce website, all of which have an impact on the overall cost of your business.
You can easily end up overpaying if you don't have a clear action plan. But don't worry, we're here to assist you.
In this guide, we'll break down the cost of eCommerce website design and development, so you can see just how much an eCommerce website costs.
Ready? Let's get this started…
Few Things to Consider Before Developing an Ecommerce Website –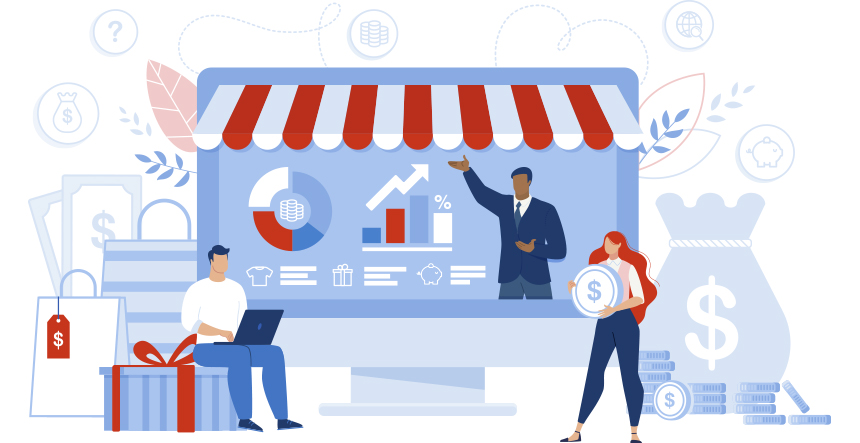 1) What type of customers do you want to target?
The type of online business you want to create is crucial to the development process. A store that sells goods is not the same as a store that sells services.
How many distinct goods or models do you want to sell in your online marketplace if you intend to sell products?
Are you a business-to-business (B2B) or a business-to-consumer (B2C) seller?
So, take all these considerations in mind, and then decide the type of e-commerce store and its functionalities.
2) How do you want to market your products/services?
Do you intend to sell your products on the internet? Or do you already have a physical location?
Due to the pandemic, many brick-and-mortar retailers are opening online stores. Selling things online in addition to having a physical shop enables smaller companies to go worldwide if they want to and/or allows customers to order online and pick in-store.
Either of these alternatives can help a company increase its reach, but it's something to consider when looking for an eCommerce platform.
3) What is your budget for e-commerce development?
How much money do you have set aside for eCommerce development? It's easy to get distracted when exploring eCommerce solutions because there are so many different custom designs and feature possibilities.
Therefore it's critical to plan ahead of time for your eCommerce development budget.
What features are definitely necessary for you? Which add-ons do you think would be useful? To keep inside your budget, make a list and adhere to it.
Calculating the Ecommerce Website Cost – Let's Start!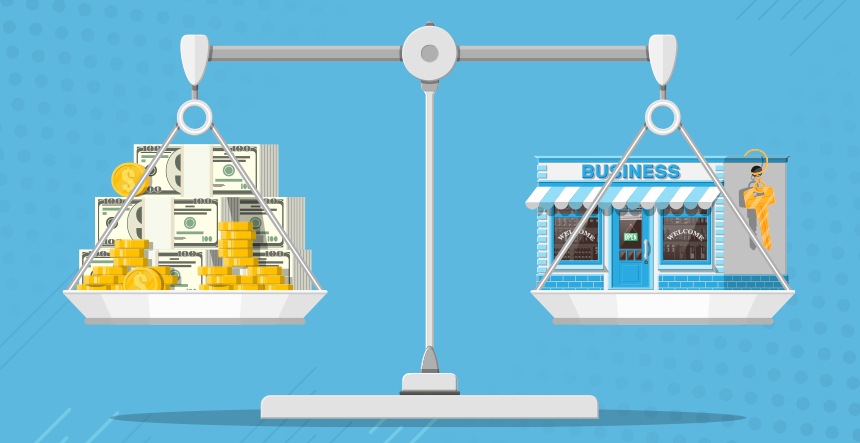 1) Ecommerce Website Design
Cost – $500 to $50000
Another significant cost of setting up an eCommerce website is the visual appearance. You'll lose potential clients if your design is shoddy or outdated.
To avoid this, you'll need to have a website design style that complements your business. Web design styles are typically divided into four categories: simple, somewhat stylized, high end, and world-class.
If you want to be the next Amazon, you'll need a high-end or world-class website, but you'll have to spend a world-class price for it!
If all you want to do is serve your customers, a basic or moderately stylized website would suffice. The area from where you choose your developers will also affect the cost.
2) Requirement of added functionality & plugins!
Cost – $0 to $10000
It's just impossible for an eCommerce platform to incorporate all the capabilities you'll require into a single piece of software. Even if they tried, the situation would deteriorate and the programme would become harder to operate.
To address this issue, we built most eCommerce software in a modular fashion. This enables add-ons and programmes to be added to the main software.
These add-ons or extensions allow you to expand the functionality of your eCommerce website by adding additional features. Many of them are paid, thus purchasing them will raise the cost of developing an eCommerce site.
As a result, the number of add-ons and the type of functionality your site requires will increase the e-commerce development cost.
3) Ecommerce Website Hosting
Cost – $20 to $500
Every website on the web requires web hosting. This is where the files for your website are kept. You'll also need a domain name, which is the web address for your business.
The hosting you choose will also have an impact on the pricing of your eCommerce website. To accommodate the traffic and ensure that pages load promptly, you'll need dependable eCommerce website hosting.
Choose a host that allows you to create a personalised website and provides continuous assistance. Support may not seem important at first, but it is critical if you have a huge eCommerce site.
To put it another way, low-cost hosting means you won't get any help. However, investing in quality hosting services can pay off in the long run.
4) Content Copywriting!
Cost – $50 to $5000
Copywriting is vital for any website. Fortunately, unlike other websites, eCommerce sites do not require much text-only content.
The pricing of copywriting is determined by what you really want on your pages, how much you'd like to write, and the type of information you want to include.
Short pages of 300 to 600 words will not cost you too much. However, many elements and subsections with 1500 to 2000 word pages will result in greater prices.
Shorter web pages are ideal for quickly delivering information, whereas larger pages perform better in search engines. Using a strategic combination of both pages can help your eCommerce site gain a lot of new visitors.
5) Payment Processing Charges
Cost – $10 to $100
When it comes to selecting an eCommerce platform, many newcomers overlook payment processing fees.
This might have a huge negative impact on your organization because it will raise your costs and decrease your revenues. The cost of payment processing is determined by the types of payments you want to accept throughout the checkout process.
Here's a payment breakdown example:
WooCommerce: 2.9% + $0.30 transaction fee for PayPal or Stripe.
Shopify Payments: 2.9% + 30% | An extra 2% per purchase for third-party payment channels
Bigcommerce: 2.9% + $0.30 per transaction with PayPal or Stripe
In general, WooCommerce and Bigcommerce have the lowest pricing and they also offer some of the most adaptable options.
6) Other Miscellaneous Costs for Ecommerce Websites
Website Maintenance: Website maintenance may cost rather more than you would like to commit, and you may not realise the benefits immediately, but it is critical. It entails bug fixes, adding new features to specific portions of your site, and overall keeping your site operational.
Inventory control: Even if the inventory and delivery costs are handled by a third party, an online store will have some type of inventory and shipping fees. So, these are some of the continuing miscellaneous costs that e-commerce firms will have to deal with.
Security: To keep your store secure, you'll need an SSL certificate and security solution. This will protect your website and its data from external attacks.
The Total Cost of a Full-fledged Ecommerce Store
E-commerce websites are extremely scalable. It would cost you around $1000 to $200,000 and even more or less based on your requirements and region.
The cost of development is usually more for custom eCommerce website development services.
An average e-commerce website creation cost with simple features ranges from may cost you $1000. However, for a high-end website, you need to pay $200,000 or even more.
Because an internet store has so many various components, you may choose precisely whatever you need and just pay for those features.
Final Note
You've now covered the majority of the costs associated with the eCommerce website.
We hope this guide provides you with a rough estimate of how much an eCommerce website costs. When it comes to your business, we encourage being liberal and spending when it is necessary.
To have an innovative and highly responsive website, hire qualified and skilled eCommerce programmers from a top-notch eCommerce website development company.
They will aid you with any business-related challenges by creating a cutting-edge eCommerce website.