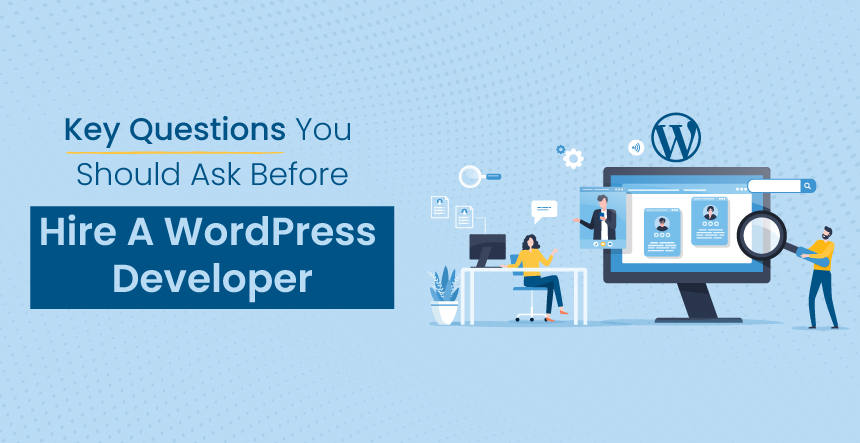 Planning to hire a WordPress Developer for an exclusive website with unique functionality and features? Well, WordPress is a powerful Content Management System that proves highly effective in building a website from scratch. With extensive themes, plugins and customizable features, it delivers fully tailor-made websites in a jiffy. For those willing to build a simple website, the best way is to choose theme templates and build the site upon them.
Talking about the success of WordPress, it has practically enveloped one-third of the web and is chosen by 30% of the website owners. This suggests how versatile this CMS is and when customized, it can create websites that are second-to-none. Let us discuss the process to hire a WordPress developer and the scrutiny that goes into it.
Why Hire a WordPress Developer?
First of all, whether you are a Startup, a small-to-medium sized business entity or an enterprise, a website is the need of the hour. Moreover, a WordPress website gives businesses the comfort to create personalized content and SEO friendly pages for higher rankings on search engines.
To build a best in class website, any company needs a qualified and experienced WordPress developer who can match their technological requirements. So, what are the primary requirements to hire a WordPress Developer? For this, you need to introspect and go through certain questions, which are as follows.
Questions to Address Before You Hire a WordPress Developer:
1) What are the requirements of your website?
Know well about what you expect from the website. Will it be a simple website that is the first point of contact for the visitor, business associates, and probable customers? Or, a fully-fledged website with features, extensions, and daily updated content? Well, ponder upon these questions to know what kind of WordPress developer will suffice the need of the business.
2) Do you need an off-the-shelf site or a tailor-made website?
WordPress facilitates building a quick website by offering free themes and templates. It can be easily done by someone who can modify themes and create a website. For a modest website with minimal features, a freelance developer is enough. It would be a budget-friendly option as well.
For an elaborate, tailor-made site with custom functionality and advanced features, it is necessary to choose an experienced developer who can devote a considerable amount of time. This can be expensive, but worthwhile for a company that needs a personalized website. Therefore, the first step is to know exactly what you want.
3) What technical skills are required in a WordPress developer?
The technical skill set, qualifications, and experience will count when things go on the floor. Following technological skills are essential when you roll down WordPress website development.
An efficient WordPress developer will be proficient in PHP, HTML, JavaScript, CSS and other relevant web development technologies.

Sound knowledge of database concepts and languages like MySQL.

Complete know-how of WordPress frameworks like Genesis.

Experience of API integration tools like Zapier and Twilio.
5) What are the budget constraints?
This solely depends on the individual business entity. A small business or startup can hire a WordPress developer who works on a freelance basis and delivers a site for a few hundred dollars. An enterprise or company with MRR (Monthly Returning Revenue) of at least $5000 or more, needs an intricate website. So, it is advisable to choose an experienced developer.
Once everything is crystal clear on your end, it's time to check the other side. Following are a few questions that need precise answers before finalizing WordPress Developers.
Top 21 Questions to Ask Before You Hire a WordPress Developer:
1) How many years of experience in WordPress development?
Experience counts as it is the time the developer has spent exploring WordPress and building sites that fulfill unique requirements. A minimum of 3-4 years of experience is a must especially in developing websites that match your requirements.
2) Expectations from the owner?
It is a two-way process as the developer would expect certain things from the owner. These may include:
Payment details – advance and monthly portions

Website content, images, company data & details

Domain and web hosting platforms etc.

Contract terms & signing conditions
4) What would be the estimated cost of development?
Get a rough idea about the probable cost of development, which depends on the requirements and time frame. It may vary as per the purchase of the theme and the inclusion of extensions. Based on the requirements, the WordPress developer will give an estimation to help you decide whether to move forward or not.
5) What is efficient – creating new themes or customizing existing ones?
Ask this question as using a template is easy, time-saving, and cost-effective. Building a new theme from scratch is a long process, but certainly helps to create brand value. Customizing an existing theme based on requirements works well for many. So, discuss and decide accordingly.
6) What is their WordPress development procedure?
Get to know the methodology followed by the developers and their approach to creating a website. Normally, it includes requirement gathering, feasibility analysis, design, development, testing, and deployment.
7) How will the developer streamline content management?
Simplifying content management should be discussed in advance. Get an idea about how the developer will do it with finesse.
It could be through widgets

By the use of Menu feature

Template feature to create the page structure

Sidebar feature for footer and navigation menu
8) What plugins would be incorporated into the website?
Check whether the web developer plans to use WordPress plugins or not. The most commonly used plugins are SEO Plugin, Caching Plugin, Anti-Spam plugins, Contact Form plugins, etc. Discuss which are relevant for your website.
9) What about responsive design and approach?
Hire a WordPress developer who builds a responsive website, which works on all screen sizes. Most importantly, there should be a mobile version or an app.
10) How secure would the website be?
The developer must create a secure and hack-proof website. There should be a complete focus on bug-free code, licensed themes and secure plugins, and regular auto updates of all of them. Check if there is a need for integrating advanced security mechanisms or not.
11) What are the plans for regular backups?
Any business unit cannot afford to lose data or information from its portal or website. For this, regular backup is a necessity. Ask the developer about his/her approach for backup and how would it be done.
12) What about the speed of the website?
You have a fair chance of losing visitors if the site does not load within 3 seconds. So, do check in with the developer about their mechanism to reduce load time and create a fast-loading website.
13) How will I get complete ownership of the website?
It is vital to know all your access rights for the website. These include hassle-free access to FTP, WP Admin, Database, Domain, and DNS settings. Absolute ownership of the website should be achieved once the development completes.
14) Can the developer create a custom plugin or extension?
If you have a layered website with intricate functionality, then it's important to hire a WordPress developer who can create tailor-made plugins for specific features. Check if the probable candidate has the experience and expertise for it or not.
15) Will I get an SEO-optimized site or not?
To get higher rankings on search engines, the site must be accomplished with On-page optimization techniques. Check if the developer has any plans for it during the design phase or after it. WordPress is an SEO-friendly platform so; it should be easy for the developer. Otherwise, you can opt for an SEO company, and post website development.
16) How long will it take for website development?
Discussing the deadline helps to get a precise estimate of the timeline. A single developer may take more than a month to develop the website from scratch while a WordPress development company with many developers can do it within a few days.
17) What about changes in the final site, if any?
The website may not turn out as expected and may require changes, updates, etc. Check if the WordPress developer has any strategies for such ad-hoc events. Also, gather a rough time estimate for it. It would be helpful in the near future and in the long run as well.
18) What about after-support or maintenance of the website?
Discuss in detail the maintenance and support activities while you hire a WordPress developer. A web development company will provide this on-demand and may give it for free or charge a nominal fee for it. Put heads together so that you can plan the budget as well.
19) What WordPress coding standards would be followed?
An experienced developer would not compromise on the coding standards and will adhere to them to create a bug-free website. It is important to build a secure, clean, semantic website that follows the best practices of WordPress website development. So, talk about that in advance.
20) What about the scalability part?
Just like a company grows over the years, so does the website. Check with the WordPress developer or the team about how they will incorporate the scalability part and what measures they would take for the future expansion of the website.
21) What would be the mode of communication and reporting?
Frequent reporting about the development process, the status of the project development, the accomplishment of milestones, and more, is a must. The owner of the site should have a concise idea about how things are going. Check with the developer or the web development company about the reporting methods, and modes of communication so that both sides are in touch on a regular basis.
The Conclusion
These are a few questions to discuss with the website development company or an individual developer. You may have more queries as per your project and product. Converse and clarify prior to finalizing the resource. Whether you hire a WordPress developer or choose a WordPress development company, the conversation is the key.
If you are searching for a successful WordPress website development company, then give a shout-out to KrishaWeb Technologies. Let's connect to create the best websites!