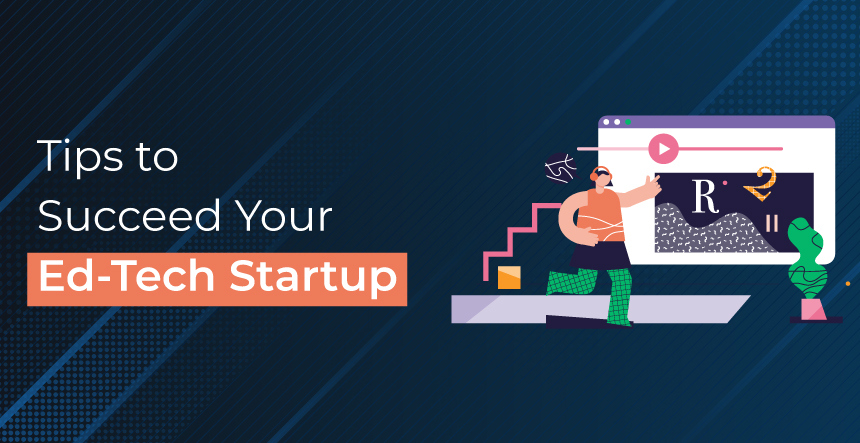 If you are planning to launch an Edtech startup that offers an education with the help of advanced technology, then you have landed at the right place. Before plunging into the business, you must know details that may help you sustain and succeed. Being a Startup, it is important that you research beforehand to become certain that the investment doesn't doom you in the future.
To talk in terms of numbers, as per statistics from futuremarketinsights, the global Edtech market is expected to grow at 14.5% CAGR in the coming decade i.e. between 2021 and 2031. Moreover, the revenue generated by this domain would add up to US$ 288.4 Bn.
This number clearly suggests that efficient Edtech companies will have a fair chance to succeed.
The major reason behind the boom of Edtech companies and businesses is the shift in the method of teaching. Post-pandemic, there is an increasing demand for virtual education methods, where subjects are taught through hardware, software and responsive apps running on smartphones, tablets and desktops. Universities, government departments and academic institutions are relying on such EdTech products to optimize the teaching and learning experience. However, any individual or company venturing into this field must know its loopholes to avoid grave mistakes that may lead to loss and disappointment.
Let us glance through some expert opinions and pro-tips that may help EdTech Startups to succeed in this truly competitive field…
Helpful + Informative Read
How to Succeed Your EdTech Startup?
Know the education sector well enough to offer innovative product
While most companies have the technical expertise to launch an application that supports educational objectives, they lack an understanding of this domain. Most of the time ravishing products are offered instead of what is actually needed. It is advisable that startups should first research the actual requirements of the teachers, students and institutes. If they figure out the exact issues, they can design an innovative solution that simplifies education. Therefore, first and foremost, to dig deeper into the education field to offer a tech-driven academic experience to the students.
Design or follow a business model that ascertains success
Many EdTech startups make the grave mistake of offering free services in the hope that customers will eventually end up buying their upgrades. However, this model does not succeed every time and has resulted in severe losses for many EdTech companies. Instead, build a business model that offers more to the customers, but also engages them to invest in the product or service. Newborn companies cannot afford to lose out on initial investment. Therefore, they should choose a business model which gives them good returns in terms of revenue and consistent business opportunities from their clients.
Innovation is the key to success!
The EdTech market is filled with products that accomplish routine tasks of generating lessons, creating sample questions, MCQs etc. Startup companies that offer an out-of-the-box solution to academic issues will be welcome by all means. This creates a demand for an innovative product that simplifies classroom learning and engages students to learn more. Most importantly, the EdTech solution must be designed in a way that enhances the spirit of curiosity in students. If your product fulfils this requirement, it would be easy to convince investors to fund your venture. Surveying teachers and students to know their day-to-day hassles can help build something that creates an optimum academic experience.
Focus on giving conceptual clarity through technology
The idea of creating interest in the subject is as important as creating a digital solution for their academics. Most university students tend to ignore studies and chose extracurriculars over learning subjects. EdTech companies need to find methods that resolve this issue. Whether it is science or art, the concept should be explained better with examples to make sure that the digital teaching method is impressive enough to keep students fascinated by the subject. It should be simple enough to ensure that the student gets conceptual clarity.
Offer an all-encompassing digital solution
While most EdTech companies want to create a startling product, they often miss the fact that the solution should accommodate each and every student. Whether the student has low connectivity issues or is struggling with some disability or suffers from a financial crisis, the digital solution should serve them all. Such a solution will gain a reputation of all-inclusivity and definitely have an edge over its competitors. So, EdTech companies should consider this part while designing a digital academic product.
Digital networking should be a goal
The B2C market shows a considerable growth rate, it is also a space with extreme competition. Students switch to better learning methods or AI-driven applications, without wasting any time. EdTech companies need to make sure that they offer a product that is valuable enough to create potential customers through their product itself. A matchless product, consistent digital networking, flawless marketing and customer retention are significant for sustenance.
Offering early rollouts to capture initial customers
Instead of offering giant digital solutions that solve all academic issues, it would be wise to deliver small trials that give away the features of the final product. This would be an 'easy on the budget' bet for universities which can leverage the entire digital solution after experiencing the prototype. Also, it would help EdTech companies to offer customization and refinement in the product.
Set up a trend by targeting top universities
As competition is heavy in the EdTech market, it is difficult for startups to entice universities. Most academic giants would not put their bet on newfangled companies. For this, it is vital to create a superlative product that could impress top universities and institutes. Apply efficient marketing strategies to target top institutes. Once any of them is cracked, others will soon follow. It is easier said than done, so, EdTech companies need to work really hard in delivering exceptional results. There are a huge number of universities opting for digital solutions, but startups are still looked down upon with hesitation. For that reason, create a marketing idea that never fails to engage top institutes.
Market EdTech product that supports student retention
Apart from the exceptional product, universities are keen for something that is loved by students. They would like to invest in digital products that support student retention. After all, education is a field where students are the main goal. If your product offers student retention, your company has hit the bullseye. So, chart out ways in which your product proves to be equally loved by both, the students and the teachers.
Create secure, futuristic products
Well, this goes without saying. Nevertheless, in this highly competitive EdTech business, there are more chances of survival for companies that offer futuristic digital learning products. Companies that invest their time and technical acumen in creating educative products that offer ease of upgrades, and higher features through plugins and secure portals are welcome. Student information and institute data should be closely guarded to assure there is no breach of privacy. This will add a tag of reliability to your product and eventually build a reputation for excellence. EdTech companies need to work on these aspects for a thoroughly professional image in the digital academic market.
To sum it up, EdTech startups have a lot to contemplate and work on before actually venturing into the real-time field. They need to study the market, the domain of their product, subdomains, customer demands, networking parameters and futuristic aspects of their business. They can step forward only after gathering all details and meticulously going through the risk-benefit analysis.
KrishaWeb offers such custom Edtech software solutions that simplify complex concepts and converts them into user-friendly mobile and web applications. Feel free to connect with us for technically advanced digital solutions.