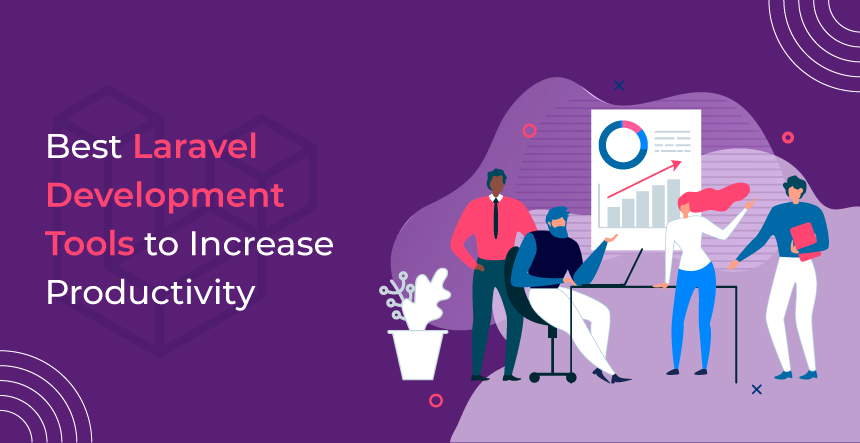 Do you need to uplift your development process while working on the Laravel project? Then save this collection of the best Laravel dev tools for faster development. Let's know about Laravel in brief before we start the collection.
Laravel has a high level of security and authentication as a framework that is used in many companies. Since the syntax of what was there in the language is very easy to understand and use, it is an easy-to-learn language.
What are the benefits of the Laravel Framework? 
Laravel offers high-end authorization and authentication.

It is not at all complex and has a clean API that helps to embed it with the mailing service.

Laravel can be used to fix issues effectively when there are more technical vulnerabilities. 

It can also simply integrate with the other tools and assist to deliver fast web applications, not only with the mailing services but more.

It credits a good level of error and predicts handling.

It provides a convenient environment for automation testing.

It provides not a complex and expressive method of routing.

It can integrate and handle scheduled tasks very effectively.

It has robust security.

It is flexible across different devices

Laravel has unbeatable features

It has Multilingual options

It can be streamlined for verification

Laravel is a strong open-source community
What are the Laravel Developer Tools and Packages?
Laravel is very easy to learn which makes it one of the most popular platforms in the market. Laravel does not comprise any of the product functionality and which is why it is popular among developers.
It focuses to provide many web project functions like integration, authentication, authorization, etc. When you pick a Laravel package and tool, you can certainly utilize them in various ways for using databases, performance dependency, and a lot more.
So, here we have covered some of the best ones to help you speed up your Laravel development. So, to speed up your development, we have covered some of the best ones. You can easily check the collection of Laravel admin panel templates in case you're looking for Laravel admin templates.
Now, let's get started…!!
8 Best Laravel Developer Tools For Faster Development
Now we would like to add a list of 8 resources to enhance Laravel application performance. Even a single learning resource can be enough But information is like the more the merrier.
What suits the Laravel framework best is the smart IDE. From unit testing, and debugging, to allowing fast refactoring and smart code navigation, PHPStorm runs smoothly with the all above the. Additionally, it is also a smooth PHP code formatter.
While saving time in debugging codes, IDE has become an important part of development as it increases the productivity of the developer. 
Whenever you hear the term Entrust in PHP space, it rings a bell of the process of adding role-based permission. By using this function, Laravel developer can create the following tables:
Roles Tables – For storing role records

Role _user Table – For storing one-to-many relations between roles and users

Permissions Table – For storing permission records

Permission _ Role Table – For storing many-to-many relations between roles and permissions.
Under these tables, roles are set at different levels. Route filter, short syntax router filter, soft deleting and such are part of Entrust.
Unfortunately, most developers aren't aware of the actuality that the PHP framework contains REPL (Read-Eval-Print-Loop), Tinker. From the command line in an interactive shell, the Tinker console lets you interact with the Laravel application. This is an optional add-on that requires to be manually installed for Laravel versions after 5.4.
Facebook, Twitter, Google, LinkedIn, Github, Gitlab, and Bitbucket, all of these platforms have one thing in common and that is, that Laravel Socialite offers an expressive, fluent interface to OAuth authentication with them. It manages almost all of the boilerplate social authentication code that you are huffing to write.
With the help of PHP, Laravel forge is the tool that automated the deployment. Security by default, database backup installs SSL certificates within seconds are some of the features that doge contains. You can easily set up SSH keys, it also lets you restart the devices and there are so many more things that Laravel forge can do.
Laravel debugger is used for debugging and is the most popular one in the Laravel framework. The debugger shows the number of queries that have been explicitly fired while the framework gives details about debugging. And the tool is regularly updated and refreshes with the updated version of Laravel.
Github and Bitbucket are two of the staple terms that you must be familiar with if you are a developer. Both, Github and Bitbucket, offer git services, you can pick one according to your project needs. The ideal solution for small enterprise Laravel applications in Bitbucket.
Google Nocaptcha is a crucial tool for an app for Google's reCaptcha validation and project. Spam is kept at bay with the help of this Google Nocaptcha. In order to make this tool work, you require an API key from the reCaptcha. 
Additional Read
Final Thoughts
A Seamless development experience is what is offered by the Laravel framework for developers to execute custom-defines functional tasks. 
Above was the list of the best tools utilized by our Laravel developers at KrishaWeb to keep track of the project's productivity. In conclusion, you can pick your best tool by considering the need of your project.